This Wednesday, the stars descended upon Venice, Italy for the 74th Annual Venice International Film Festival. But just outside the floating city, there's another production afoot—one with just as much glamor, heritage, and even glitz.

On the ground floor of the Rene Caovilla factory in Fiesso d'Artico, artisans are diligently crafting the third-generation-family-owned brand's intricate shoes. One young engineer might be working the laser-cutting machine that, with a ballet of light, traces delicate designs onto sheets of leather. Another craftswoman is likely heating Swarovski crystals with a torch before gently affixing them—with the utmost precision—to a pair of stilettos. According to Edoardo Caovilla, the company's chief operating officer and creative director, each pair of shoes—from basic pumps to the brand's signature snake-ankle sandals—takes at least 40 steps to complete. "If an error is made, you have to throw away the whole shoe," he explained. "So the further you get along in the process, the riskier it is."
I didn't witness any shoes getting the boot during my time touring the 80-plus-year-old house's factory, a testament to the skill of the artisans, many of whom have worked there for decades. Ana, who is in charge of bringing artful details to life, has been part of the team for 68 years. "She's really an artist—you say, 'Ana, I'd love to have a flower,' and she interprets it. She taught all the younger generation how to do it too. We're really thankful for her—she's part of the family," Edoardo gushed.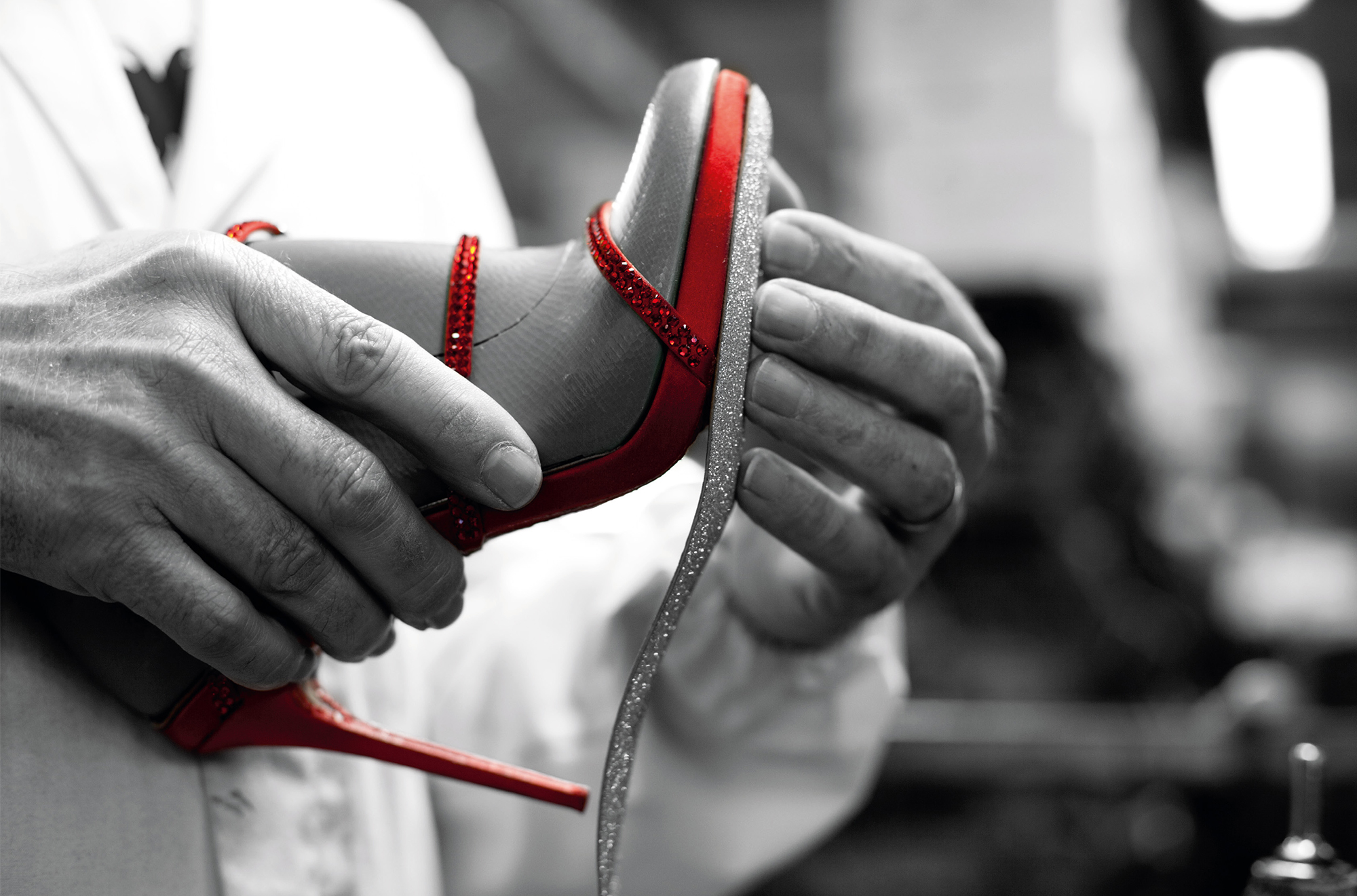 Photo: Courtesy of Rene Caovilla
Indeed, the entire company is somewhat of a family. Edoardo, a former financier who succeeded his father, Rene (who followed in the footsteps of his father, also Edoardo) as head of the brand in 2013, grew up up playing in the factory. "I remember, when I was four or five years old, climbing the machines where the shoes were made—racing to the top—and [the employees] caught me. I also loved the leather post, and watching all the colors. I was allowed to cut small pieces to take home and play with. I still love the perfume of the leather." Furthermore, the company invests in its team, offering a training program so that artisans as young as 20 can someday possess the skill and knowhow of someone like Ana. That investment speaks to the pride the Caovilla family takes in its product and its traditions. At a time when so many heritage luxury brands are chasing a cool factor, attempting to quickly pivot in order to grasp that millennial client, Rene Caovilla is staying true to its origins, celebrating its dedication to old-world craft and its history.

"Heritage represents our roots, our DNA," offered Rene. "I don't think it's possible to have a future without a steady past."
Upstairs in the company's headquarters sits a Versailles-style conference room. It's grand and opulent, not unlike the brand's most famous designs, but as Edoardo and I were chatting, the walls opened up to reveal a hidden archive packed with shoes from the last 80 years. It was like something out of a James Bond film. Some of the most precious pairs were encased in glass boxes and placed atop red velvet cushions. Others—made in every lush material you could imagine—lined the entirety of the walls. There were styles that Rene had made for houses like Chanel, Valentino, and Christian Dior, all of which, at one time or another, sought out the house's skills to enhance their own collections. Plans are in the works to bow a museum in Venice proper in the coming years.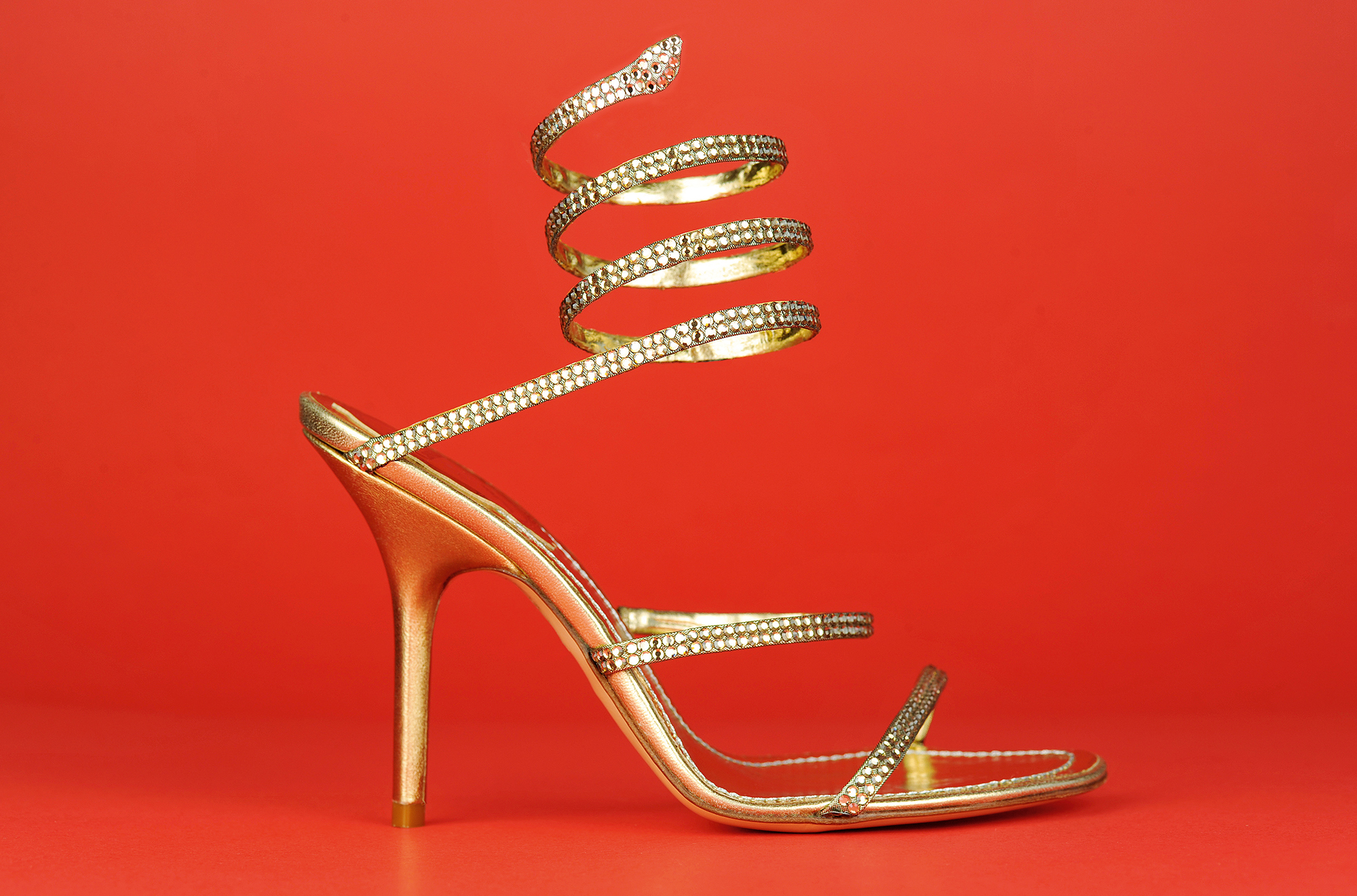 Photo: Courtesy of Rene Caovilla
"Venice is the most magical city in the world," said Rene of the city, which, an enduring pillar of the brand, is known for its craftsmen, but less so for spawning international businesses. "I've always hoped and managed (so they say) to create dreams, and this is what Venice is—an endless surprise and a dreamlike city."

Naturally, the company got in on the current film festival action, providing shoes for Italian model Bianca Balti and actress Eva Riccobono to wear to the Opening Ceremony Gala Dinner. And perhaps more impressive, the house is front and center at this year's Venice Biennale, having earned a spot in the Venice Pavilion, where it has installed a handful of vintage, bejeweled shoes, as well as its illuminated, LED snake sandal, the first iteration of which was introduced in 1968.
The house's story is romantic, to be sure, but the modern fashion landscape presents numerous challenges for family-owned, heritage brands such as Rene Caovilla. However, Edoardo—with his business background—serves as somewhat of a counterbalance to his creativity-focused father. "My grandfather was a visionary," Edoardo said. "My father is a poet of shoes. If you remain here for another hour, you can see my father walking around, holding up the shoes and saying, 'Why don't you speak?' I'm more of a creative director and manager," he continued, noting that, while the company was born out of creativity, it has, over the last 15 years, become more of an international, well-oiled machine. "There is a part of my soul that is still private, but we have to allow the company to grow. One third of our business is in the Americas, one-third in Europe, and one third is the Far East. One third is franchise, one third is retail, and one third is wholesale. We are still walking up this learning curve."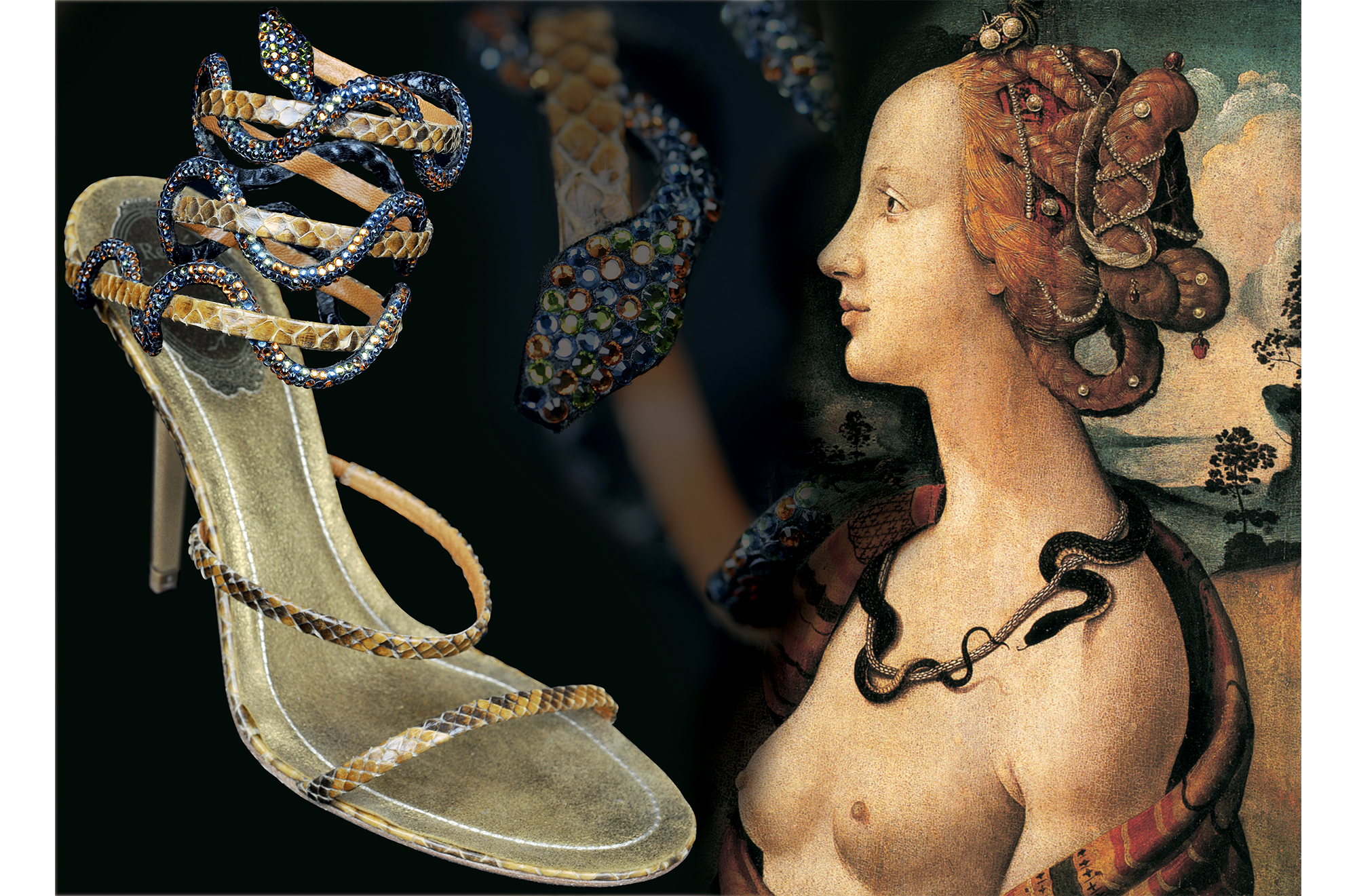 Photo: Courtesy of Rene Caovilla
Edoardo seems to be handling that curve just fine. Since his installment at the head of the brand, he has significantly boosted production, reaching 120,000 pairs of shoes per-year. He's cleverly navigated the increasingly difficult retail landscape, putting a newfound focus on direct sales and e-commerce through the brand's Website, and an international expansion of stand-alone stores is planned for the next two years.

Balancing his family's ever-growing business and his creative responsibilities is no easy feat. But Edoardo believes that his background in finance has put him in a unique position to do it all. "I grew up seeing my father and my grandfather designing. Then I spent 15 years of my life in finance because I like math and numbers. This has allowed me to be a bit square. I think in the fashion industry, many people are too round—too much of a dreamer. Too many people think that everything is allowed. But that's not true."
Edoardo, who has three children, has every intention of keeping the company in the family—but his two daughters and son will have to earn their spots on the team. "I tell [my children] that I have a fantastic job. I tell them that it's a job where you struggle because being a creative director now isn't like it was in the past. You can't remain in your office by yourself. I tell them that I'm really proud that it's a family company, and if they are able to earn success [elsewhere], they'll be allowed to enter the company, but to please make it as soon as possible, because I don't want to work until I'm 70 or 80 years old."
0 Comment