When it comes to joining your personal and professional passions, Sarah's Bag founder Sarah Beydoun is living the dream. Her now-17-year-old bag line was spawned from thesis work with an NGO for her grad school studies in sociology in which she helped rehabilitate female prisoners by giving them marketable skills. It has since grown to employ 150 women across villages in Beydoun's native Lebanon. To create her latest capsule collection, she turned to another group of women in need of a guiding hand to get them back on their feet: Syrian War refugees.
The current cultural zeitgeist that included the Women's March in January and crisis of the Syrian refugees cultivated the collection. The former was always a part of Sarah's Bag's brand ethos, and Beydoun stressed that empowering these women—whose post-prison options economically and socially speaking were nil—was key from day one. She's witnessed these women turn around their circumstances both at home and in society as they gained independence and authority by becoming breadwinners.
Beydoun was struck by the words of protest scrawled across posters during coverage of the worldwide Women's March. She saw the signs as both humorous and highly prolific, especially those in the States. "Look at the U.S. doing this—and they are an emancipated country! We should be doing this here because we really need this," she said of her native country that, according to the designer, could use some progression when it comes to laws that are unfavorable for women. Entitled "Who Runs The World?," an obvious riff on the Beyoncé tune, the collection not only reflects some of the slogans seen at the various marches such as "The Future is Female" or "Hear Me Roar," but each design is also unique in its shape and embroidery, representing the diversity of women across the world. The capsule collection is also Sarah's Bag's first foray into see-now, buy-now, with the collection being turned around in six weeks versus the standard six months.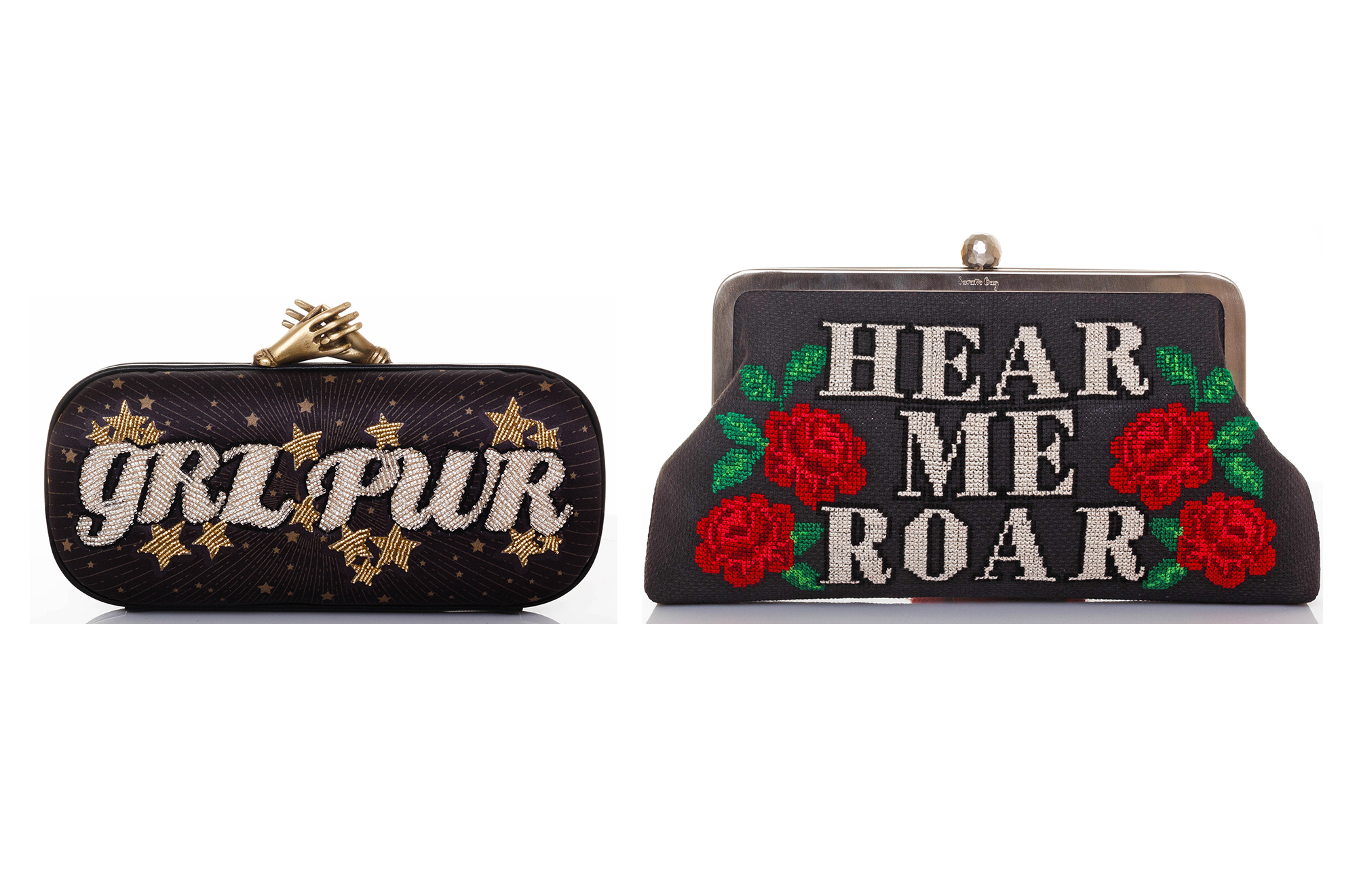 Photos: Courtesy of Sarah's Bag
The other catalyst for the collection came from Lara Assali, Beydoun's operations manager, who is of Syrian decent and previously lived in France and Canada. She volunteers for Tight-Knit Syria, or TKS, the particular NGO that was working with the Syrian refugee camp in Lebanon (ironically located within a Palestinian refugee camp) and a 20-minute drive from the offices of Sarah's Bag. There, she met Malak, a project coordinator and refugee herself looking to connect the women with work.
Enter Sarah's Bag, which was in need of beadwork. Beydoun would deliver supplies—cloth, beads, thread, and design plan kits—and Malak dispersed them among the 20 refugee women involved in the mutually fortuitous project. Malak, like many of the women who range in age from 17 to 60, was trained in sewing and traditional embroidery both at home and through trade skill programs. Prior to the current war crisis, embroidery was becoming "trendy" again in Syria, and TKS was helping them produce there. The pieces they create for Beydoun's line are then produced as bags in a proper handbag factory.
Both Beydoun and Assali said the conditions at the camps were "heartbreaking"—cement block houses covered in tarps to stop the leaks when it rains, zero sanitary facilities, and overcrowding—and having the plentiful work they offer helps refugees buy basics such as toilet paper and food staples. The work is literally life-saving and affirming, said Malak, a mother of six. "Some of them have lost their fathers and brothers because of the war, or saw their children get killed right in front of their eyes, leaving them emotionally affected by the conflict. This work is giving them a second chance in life. It's not purely about the income, it gets their mind off their sorrows and gives them hope for a better tomorrow."
Beydoun hopes the collection will bring attention to the issue and show how the fashion industry can give back. "We are creating a model that could be executed in many places through NGOs. It's important for us to be a fashion brand with a humanitarian side that is aware of social issues." Driving the idea home, Dana Kandalaft, who runs TKS, is a Canadian adding to the global idea of women not only who run the world, but also the show.
0 Comment