Thanks to the ever-expanding world of New York lifestyle boutiques, we are being exposed every day to niche aesthetics we didn't know we needed until they just existed one day. Usually in Brooklyn.
Take, for example, The Great Eros, a lingerie line and boutique that offers a comfy, minimalistic approach to erotica. It's the kind of place you can find a sturdy leather flogger, but also wide-leg pajama pants, and a variety of cotton t-shirt styles.
"We just opened a couple of months ago—it's been a whirlwind. We've had a lot of fun," said designer and co-owner Christina Viviani, who founded the shop with her partner and husband Emilio Ramirez. The duo have backgrounds that helped with the launch of their new brand—Viviani as the designer behind the lingerie brand Curriculum Vitae, and Ramirez as the former owner of the West Village boutique Personnel. "We were like, let's just do something together, and do this modern, sensual environment, that hits all the senses. So we have candles from all over the world, perfume, fine jewelry, latex, leather, beautiful literature, and some sensual objects. And pieces that you can really wear out, or in the house."
The new collection is soft, modernist, and effortlessly sexy. There is a clean, '90s vibe to the lingerie, which focuses on soft, comfortable fabrics, with subtle details like Italian-made cotton tulle and lace. A standout piece is a super high-waisted, extreme bikini-cut pair of mesh panties that just happens to be crotchless.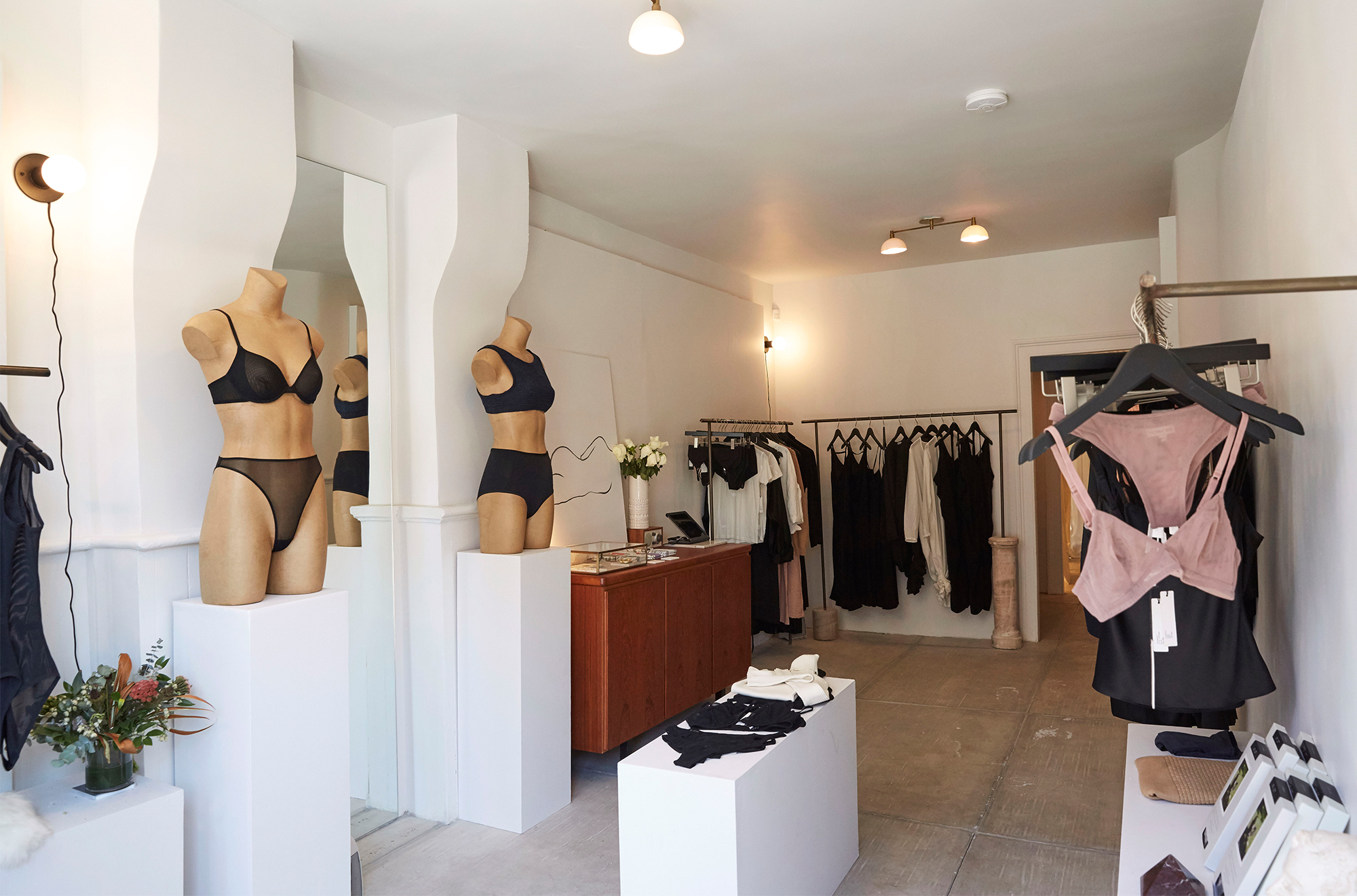 Photo: Courtesy of The Great Eros
"[It's a] very raw, very back-to-basics feeling—stuff that you could travel with, something that's comfortable, something that moves," said Viviani. "This being our first season with the store and the collection, it felt like the right place to start: How can we build our client's wardrobe, and then have fun with more fashion pieces? But we kept it very minimal."
Through the focus on well-made fabrics, there is an aspect of attainable luxury to the collection, as with some of the other brands Viviani and Ramirez carry. Should plain cotton not be your thing, perhaps latex lingerie or leather gear are.
"We wanted to bring in things that I admire as a designer. I think that there are obviously other designers doing great things--people who are specific to what they do, and that's awesome," she explained of the other brands The Great Eros carries, including Marieyat, Fleet Ilya, and Land of Women, among others. "We didn't bring in any really girly brands. Just [designers that] fit the ethos of what we we're trying to do, and the vision. And also, people we would want to hang out with."
The Great Eros has recently expanded into socks and stockings, but fans can perhaps expect a swim line in the future as well. "I definitely think swim is coming next. That will be in the works," Viviani mused. "And just expanding the collection with silhouettes and doing little fun fantasy collections that are a little more out-there."
In the immediate future, customers can look forward to an all-new website, which should launch in about a month.
0 Comment