"I love the word curvy. It's artistic. It's beautiful. There is a flow to it. A straight line can be boring." This quote by actor Salma Hayek finds special resonance with designer Wendell Rodricks. A veteran in the Indian fashion industry, his fidelity to inclusivity harks back to 1989, when he started working to offer Indian women a more all-encompassing range of clothing sizes. "Most people assume that 'plus' means curvy or voluptuous, but 'plus size' has so many varied shapes and sizes under its belt, especially in the case of Indian women, whose frame is defined by hips, naturally," said Rodricks.
The designer was approached by aLL, an Indian apparel brand with 52 stores across the country solely catering to plus-sized customers, to put together a collection titled Primero, which was recently showcased at Lakmé fashion week in Mumbai. The proudly democratic show featured Veronica Campabell, India's first transgender plus-size model, along with a handpicked band of 20 voluptuous, street-cast women and men.
Expounding on the virtues of asymmetry and bias cuts, the Goa-based Rodricks and his design head, Schulen Fernandes, worked with a palette of whites and greys with blazes of rainbow hues to create 22-key looks, including kaftans, capes, swing dresses, asymmetrical gowns, and the indispensable jumpsuit in the boldest and brightest blocks of color. "The Western market coveting to appease the plus-sized customer can learn a thing or two from Indian dressmaking tricks," he suggested. To wit, a jumpsuit in a tailored, Western style tends to choke at the crotch, but when cut in the forgiving Indian dhoti (drape) technique, the dilemma is avoided. "I didn't want to follow the American plus-size format that simply replicates designs created for 'slim' shoppers and introduces them in larger sizes, or advocate myths that black is the answer to a slimming look, and color or color-blocking is not meant for plus-sized shoppers," he asserted.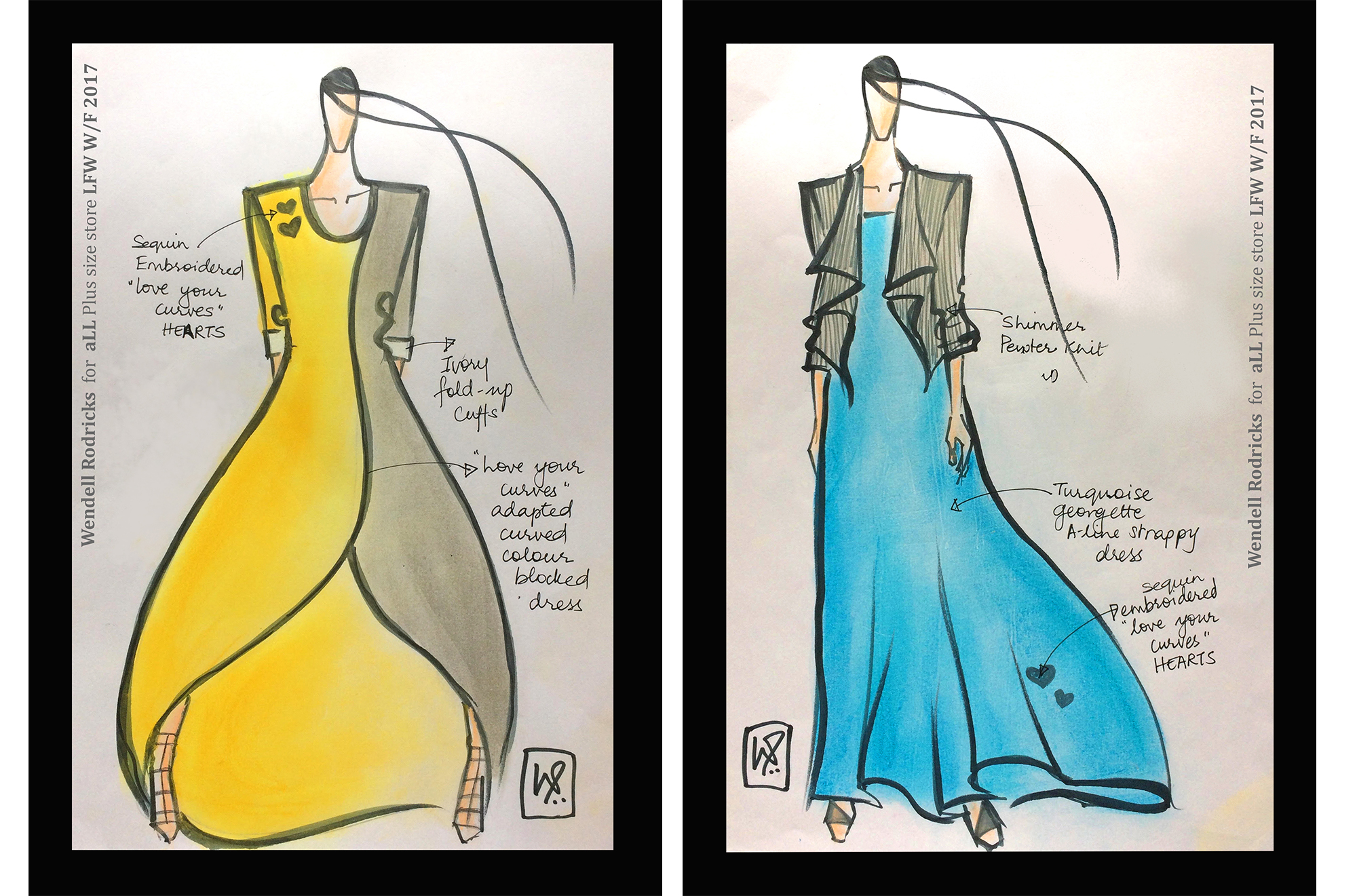 Sketches: Courtesy of Wendell Rodricks
The average Indian is plus-sized—60 percent of the country's population, in fact—and they certainly condemn being labeled as the fringe market. India boasts four major fashion weeks annually, yet major fashion labels, barring Rodricks and Anita Dongre, refuse to acknowledge the bodies of their customers. Perhaps the fault lies in the marketplace prejudice. Designer wear is synonymous with bridal wear because that's where Indians spend money, leaving very little time for designers to focus on clothing options outside the conventional size grid, and in turn ensuring steady orders for neighborhood tailors.

India being a country of personalized fashion, the trusted tailor was your go-to designer. He would custom-make designs seen in international magazines in a matter of days at a comparative fee. "But just like the tailors lost out to international ready-to-wear brands introduced by the multiplying malls in the early 2000s, I'm positive that by 2020, we would see an increase in plus-sized clothing brands. It's only a matter of time," said the optimistic Rodricks.
The Western fashion world has only recently begun to embrace models larger than a size four, thanks in part to the likes of Ashley Graham, Clementine Desseaux, and Candice Huffine, but India lacks authoritative body-positive icons. Instances of progressive, normalized image boards are few and far between. India's widely read fashion glossy Femina featured curvy-and-proud Bollywood actress Huma Qureshi on its cover in July 2014, while Elle did a sumptuous spread on six full-figured entrepreneurs with a devil-may-care headline—"These Curvy Girls Have Zero Fucks to Give"—in early 2016. Both initiatives went wildly viral, and enjoyed rave reviews.
For now, it's encouraging to see designers like Rodricks inspiring women to celebrate the gloriousness of a voluptuous body in positive, shame-free ways. Housed in the heart of Goa, his flagship boutique at Panjim displays garments in categories of Slim, Medium, Voluptuous, Voluptuous Goddess, and Very Voluptuous Goddess. "I think it's demeaning to slot women in large, XXL, XXXL… categories," he said, "don't you think?"
0 Comment