Is it just us, or has everyone been sipping a little more liberally lately? Perhaps it's the end of the summer and we're all on vacation, or maybe it's because the news keeps predicting the end of the world. Either way, we've recently noticed that as inhibitions drop, wallets begin to open—who among us has not made an alcohol-inspired purchase or two?
And so, in the spirit of Wine Wednesday, our editors have poured themselves a glass, and put together a wish list of what our tipsy selves would gladly purchase—price tag and practicality be damned. Alcohol often provides the confidence—or, more accurately, the shameless stupidity—to do what one would normally talk herself out of. For added measure, we've included a sober wish list as well. Because what goes up must come down, and it turns out shopping is a good hangover pick-me-up. See our editor's picks, below.
Alaïa boots vs. Balenciaga boots
Photos: Courtesy of Net-a-Porter; Courtesy of Ssense
Katharine K. Zarrella, Editor-in-Chief

Sober me feels very strongly about velvet for Fall. Sober me also feels very strongly about Alaïa, so I've had my eye on these black velvet stiletto combat boots for a while. They're practical—I promise, there's a platform—they'll last forever, and they're the perfect companions for my Comme des Garçons looks.
After enjoying a few glasses of Cloudy Bay, tipsy me also feels strongly about velvet for fall, but tipsy me thinks I need an accent color to make my noir wardrobe pop. So naturally, tipsy me would indulge in these thigh-high, shocking-pink, velvet Balenciaga boots. And then sober me would wear them once, cry a little bit, and promptly sell them on Vestiaire Collective in order to pay my credit card bill.
Left: Alaïa leather-trimmed velvet ankle boots, $1,600, Buy it now
Right: Balenciaga Pink Knife over-the-knee boots, $1,395, Buy it now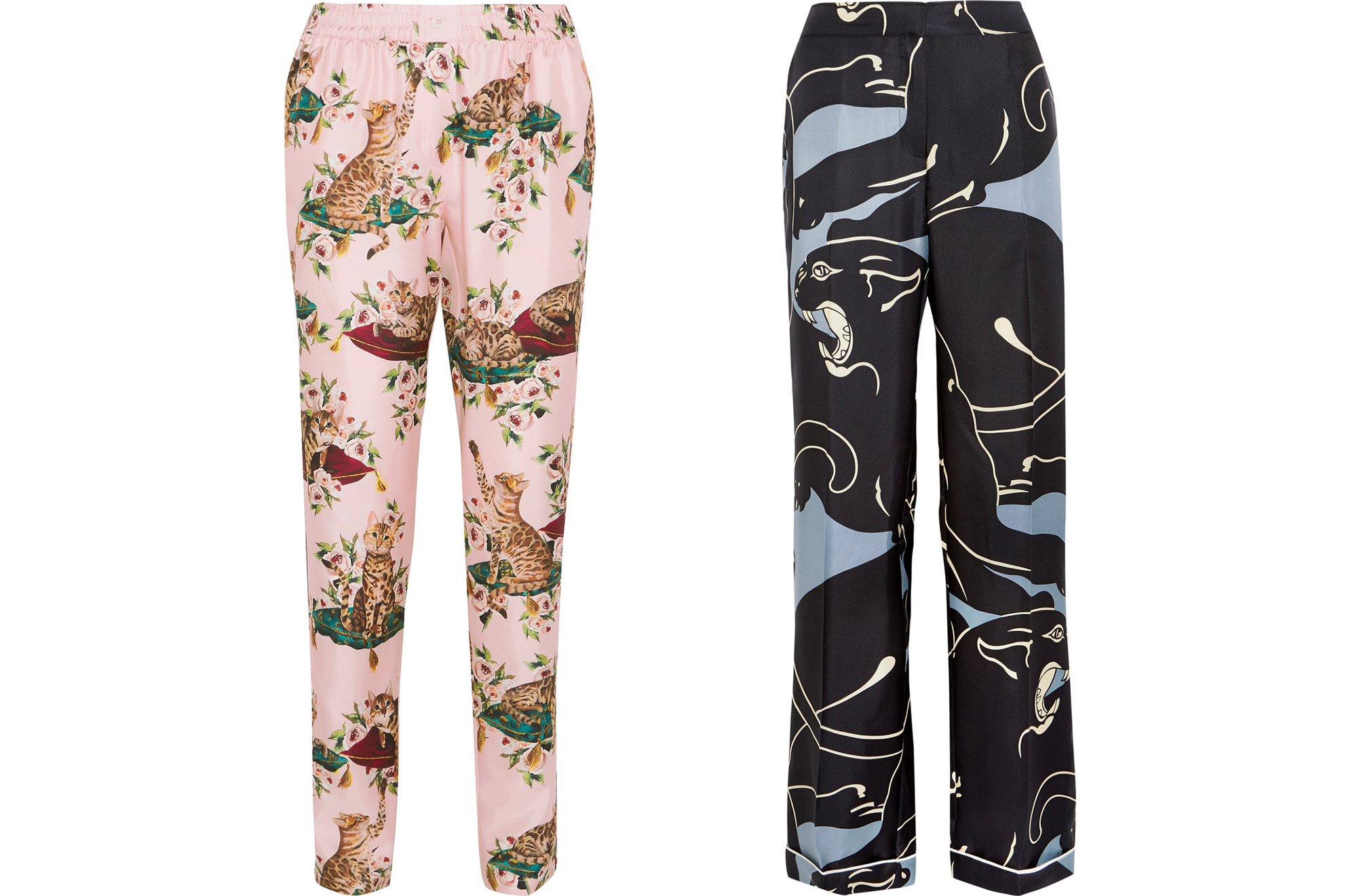 Dolce & Gabbana pants vs. Valentino pants
Photos: Courtesy of Net-a-Porter
Amber Kallor, Beauty Director

I'm most likely to get buzzed on anything dry and red. Before falling into a blissful sleep, I would buy these silk cat pants from Dolce & Gabbana. The elastic waistband would undoubtedly be appealing while intoxicated and they would pair perfectly with the "adult" slippers I've been strutting around in all summer.
Sober me wouldn't necessarily disapprove of this purchase, but I wouldn't love myself in the morning when I discovered I spent over $1,000 on the purrfect pajama pants. Once clearheaded, I would tell my Merlot-soaked self to get its shit together, stop getting "accidentally" wasted on a Wednesday night, and put on something with buttons and zippers like a responsible grownup with a job, such as these more practical—but equally comfortable—Valentino trousers covered in a panther print from the house archives.
Left: Dolce & Gabbana printed silk-twill pants, $1,195, Buy it now
Right: Valentino panther printed silk-twill wide-leg pants, $1,650, Buy it now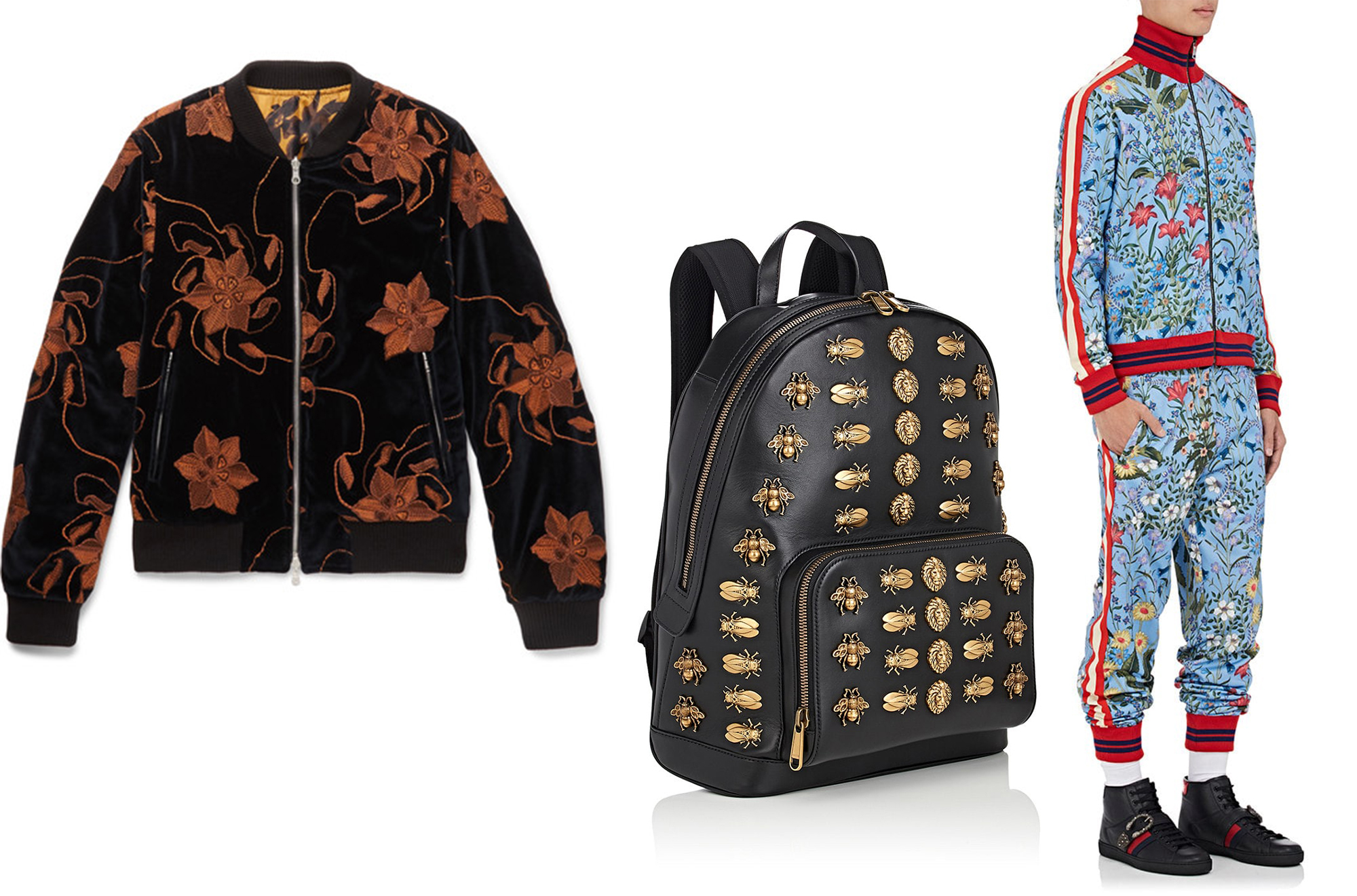 Dries Van Noten jacket, Gucci backpack, and Gucci outfit
Photos: Courtesy of Mr. Porter; Courtesy of Barneys New York
William Buckley, Menswear Editor

Sober me would buy nothing at all. Sober me would be too busy sobbing, sitting atop a big hill of unopened letters soliciting my debt for consolidation. Sober me knows that American Express will not raise my credit limit much more. Sober me understands the gravity of such shockingly irresponsible spending and sober me has cut up my credit cards.
Toasted me, frankly, doesn't give a damn. Toasted me is in Dover Street Market in London discussing digital consumer strategy with the sales associate and discovers that the purchase of a Craig Green quilted coat may be made with PayPal if I fill out a form (they are the last company idiotic enough to extend me credit...I mean, I'm on Capital One's blacklist). Toasted me leaves the store with a full-length purple, green, and white Walter Van Bierendonk overcoat and a black and neon Raf Simons x Robert Mapplethorpe jacket that I was able to buy before my second Amex got declined. But that was last fall, true story. This fall, sober me has stopped me from searching for new lines of credit. But toasted me will indubitably find a way to buy this reversible, embroidered, velvet-and-printed satin bomber jacket by Dries Van Noten, par example. Or this full-look floral piqué Gucci track jacket and pants, and a backpack to carry the clothes I'll change into after the gym.
Left: Dries Van Noten reversible embroidered velvet and printed satin bomber jacket, $1,765, Buy it now
Middle: Gucci embellished backpack $3,490, Buy it now
Right: Gucci floral piqué track jacket, $1,750, Buy it now; Gucci floral drawstring-waist track pants, $1,200, Buy it now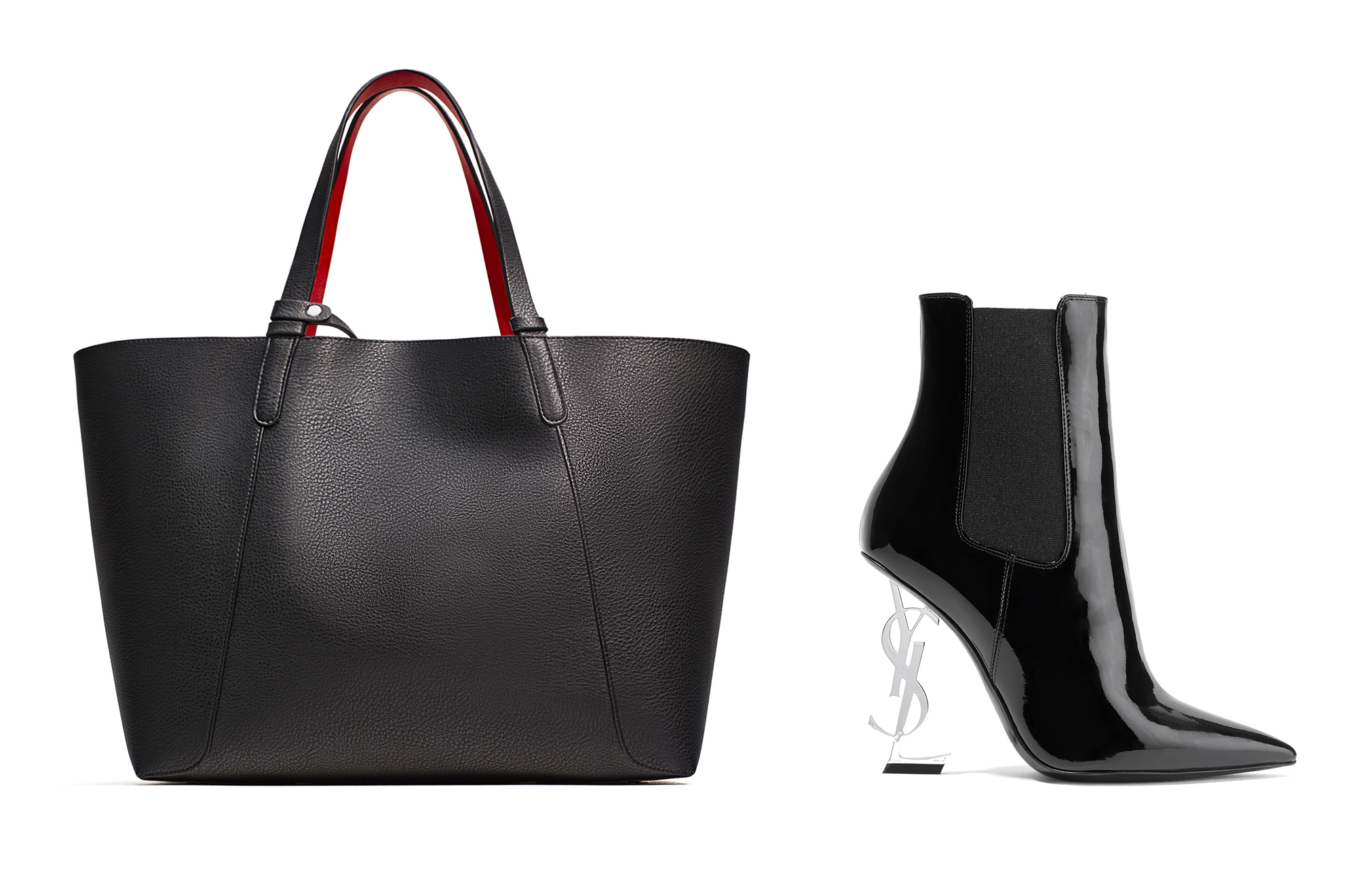 Zara bag and Saint Laurent boots
Photos: Courtesy of Zara; Courtesy of Net-a-Porter
Hilary Shepherd, Editorial Coordinator

I'm super into impractical footwear—especially if there's some batshit-crazy heel involved. After downing a few glasses of wine, I would log onto Net-a-Porter and add these shiny, patent-leather Saint Laurent booties to my basket. Do they cost the equivalent of a month's rent, plus my right arm? Yes. Do they have those silver mirrored YSL heels that look completely nightmarish to walk in and immediately caught my eye as I was uploading the collection images from Anthony Vaccarello's Spring 2017 debut at 1:00 AM? Also yes. Does wine-sipping me care about anything other than seeing the sleek black Net-a-Porter van outside my apartment the same freaking day I ordered them? Nope!
Sober me would most definitely not be online shopping (I'm saving up for a vacation), but if I had to choose something, it would be this super practical, super accessible tote bag from Zara. It's big enough for my Macbook and as affordable as a week-long Metrocard. It's totally fine that it's not real leather, as I notoriously treat everyday bags the same as I do ex-boyfriends—poorly.
Left: Zara reversible tote bag, $36, Buy it now
Right: Saint Laurent Opyum patent-leather ankle boots, $1,495, Buy it now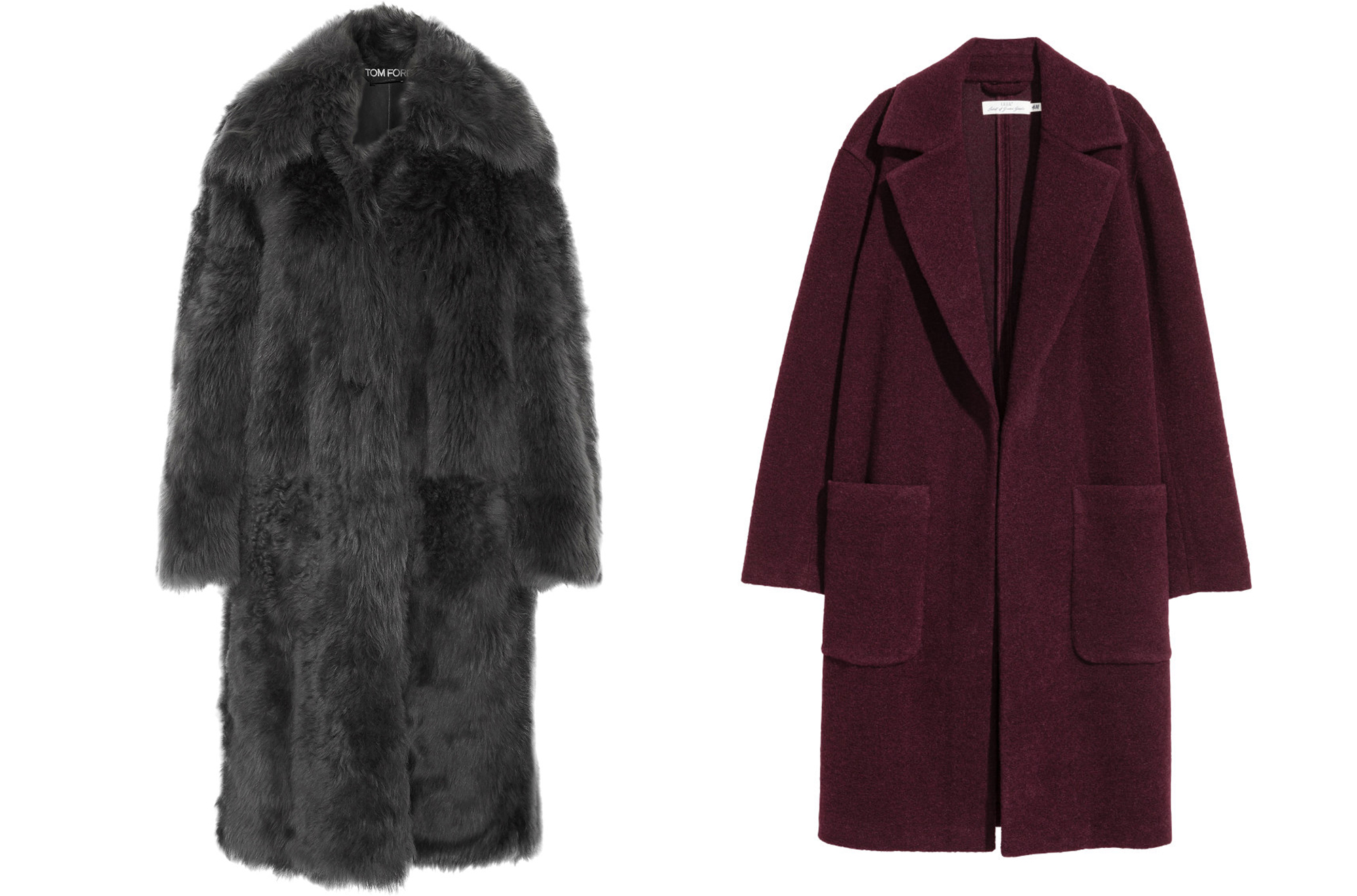 Tom Ford coat vs. H&M coat
Photos: Courtesy of Net-a-Porter; Courtesy of H&M
Erinn Hermsen, Site Director

Even though I'm from Wisconsin and my hometown of Green Bay is literally nicknamed the Frozen Tundra, I'm incredibly wimpy in the cold. I've been known to wrap up in a blanket in the office in the middle of summer because the window AC unit is a little too cold for me. A few too many glasses of Malbec later and I would gladly enter my credit card details to arm myself with this oversized Tom Ford shearling coat. The credit card points will make it worth it, right?
Sadly, I'm practical almost to a fault. My coworkers would tell you that I get anxiety even thinking about splurging on clothing items. In reality, I'd most likely purchase this safe, plum, H&M wool-blend coat to break up my mostly black wardrobe, and probably continue to bitch and moan about being cold every day. Sorry, coworkers.
Left: Tom Ford shearling coat, $5,500, Buy it now
Right: H&M wool-blend coat, $80, Buy it now
Saint Laurent roller skates vs. Jacquemus oxfords
Photos: Courtesy of Saint Laurent; Courtesy of Ssense
Aria Darcella, Contributing Editor

My sober and tipsy selves, like most people, are the perfect odd couple. Sober self is bound by financial limitations. Tipsy self also has said limitations, but has nary a care in the world about them. Sober Self likes to weigh the practicality of purchases. Tipsy self likes to buy things "for the lols."
For example, when shoe shopping, sober self is likely to gravitate to these oxford derbies by Jacquemus. The logic? Oxfords can be dressed up or down, they are always in style, and this particular pair has a unique heel that makes them worthy of their modest (by high-fashion standards) price. Plus, I'm a huge Jacquemus fan, so there will certainly be a sweet joy in opening the box. Tipsy self (likely fueled by a robust red) would quickly throw reason out the window and drop serious cash on those Saint Laurent roller stilettos, because "haha, can you imagine?" and "pshh, how hard could it possibly be?" Sober self will go straight to work trying to find chic elbow pads.
Left: Saint Laurent Anya 100 Patch pump roller, $2,600. Available in stores only.
Right: Jacquemus black 'Kes Chaussures Clown' debys, $555, Buy it now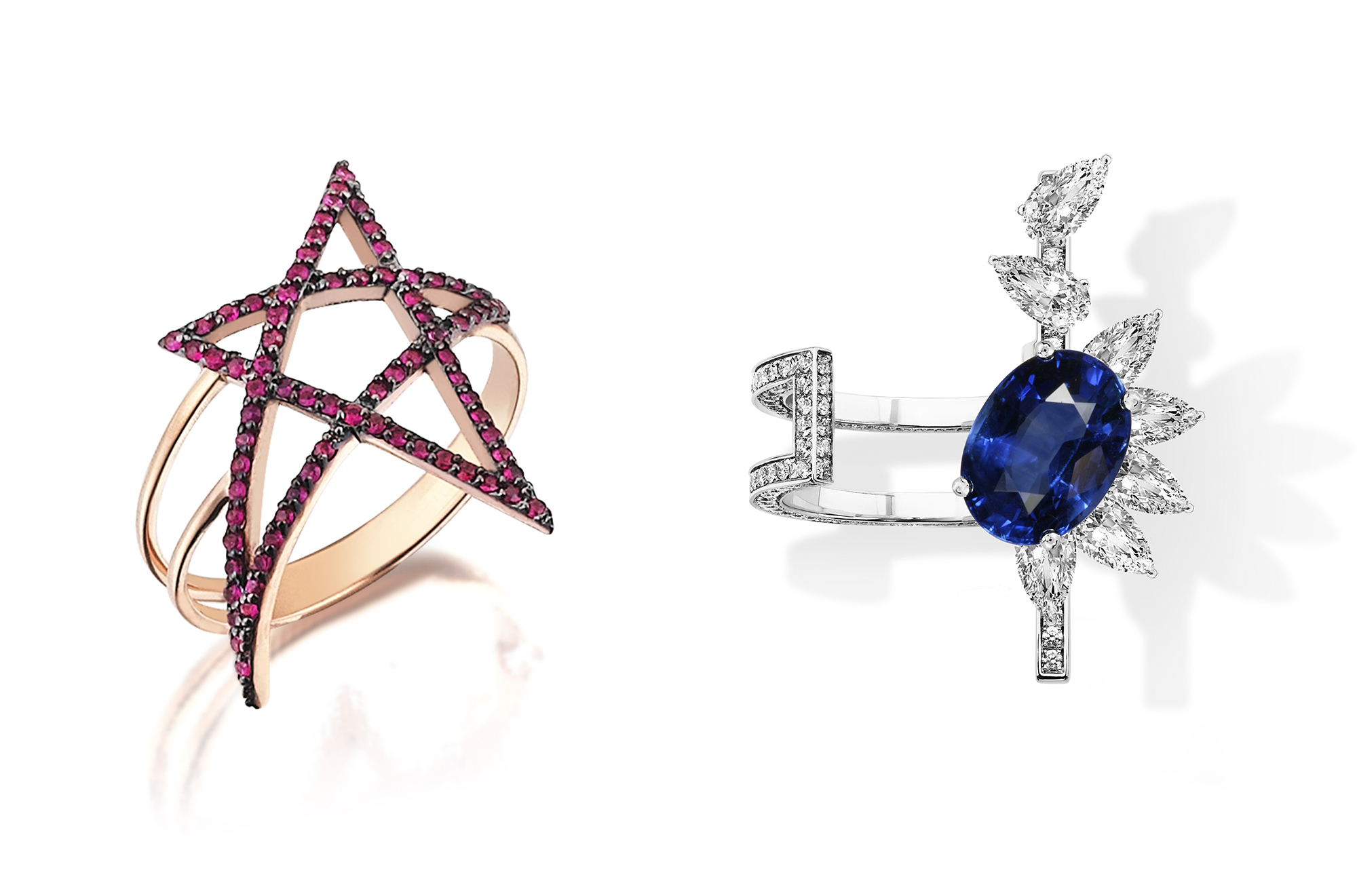 Gemfields x Muse Kismet by Milka ring vs. Dauphin ring
Photos: Courtesy of Moda Operandi; Courtesy of Dauphin
Roxanne Robinson, Contributor
I love a good fantasy as much as the next person. At the moment, the whole concept of indulgent shopping is hypothetical because I'm in the midst of a transatlantic move with two school-age kids, and god knows I don't need another piece of jewelry.
So, hypothetically speaking, sober me would buy this fabulous red ruby pavé star ring from Kismet by Milka. It was made in partnership with the fancy gem mining company Gemfields. I would wear it daily and it is so apropos to my newly incorporated "business" name, Roxstarr Content Inc. The name comes from my mother who, having five kids, was definitely prone to slight confusion. When calling for one of her two girls (my sister's name is Starr) she would inadvertently combine the two names shouting out "RoxStarr." Of course, we loved this moniker and do consider ourselves rock stars.
Now, if I were three or four glasses in and feeling falsely flush, I would break the bank and go for this new diamond and sapphire ring from Dauphin. The ring features a six-carat sapphire that appears to float on the finger. The designer, Charlotte Dauphin de la Rochefoucauld, embodies the cool and fluid designs she creates. She is, like the jewelry, modern and graceful. I would happily flaunt this at the many social events I plan to attend in my upcoming and hopefully immensely chic life in Paris.
Left: Gemfields x Muse Kismet by Milka 14K rose gold with rubies ring, $1,040. For more information, visit modaoperandi.com
Right: Dauphin diamond and sapphire ring, $179,724, For more information, visit maisondauphin.com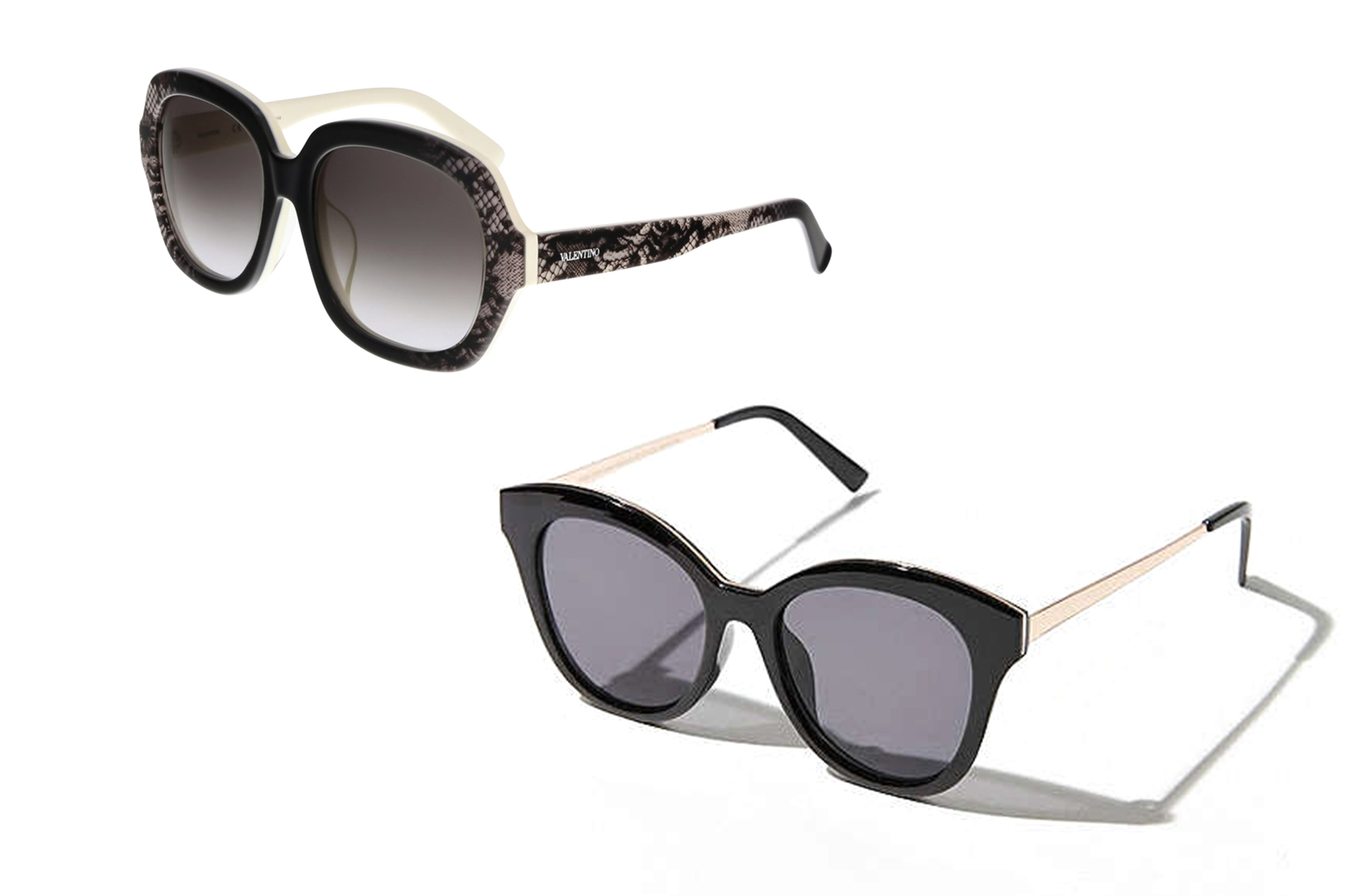 Valentino vs. Urban Outfitters
Photos: Courtesy of Bluefly; Courtesy of Urban Outfitters
Ali Webb, Editorial Intern

Despite working towards a career in fashion, my student budget limits me to more affordable brands. I also heartbreakingly forgot my favorite sunglasses in a hotel in Florence last summer, leaving me endlessly in search of the perfect replacement. I have been eyeing discounted Valentino shades for a while, but still haven't brought myself to make the slightly impractical decision of actually buying them. Maybe enough prosecco would convince me to finally follow through on this mini style goal of mine, but sober me is likely to go the Urban Outfitters route and buy yet another cheap pair of black cat-eyes.
Valentino White faded square sunglasses, $100, Buy it now

Urban Outfitters Alexia cat-eye sunglasses, $10, Buy it now
0 Comment