Imagine witnessing a pair of strangers who meet and strike up a deep conversation (almost Forrest Gump-style) on a subway bench, fully immersed in their talk as several trains pass by. Now, imagine witnessing a similarly candid scene (MTA bench and all) in the front of DKNY's Soho flagship. On Thursday, DKNY launched its latest window installation with a compellingly low key event, which was a nice way to ease into the swing of NYFW.
Back in June, DKNY creative directors Dao-Yi Chow and Maxwell Osborne teamed up with the New Museum and four female artists who are part of New Inc, the museum's incubator for emerging talent. Each artist was tasked with transforming the rotating display for the downtown store, and the resulting exhibitions have been wildly different.
Batting third (of four) for DKNY's New Inc partnership—titled The New Women's Project—was Emilie Baltz, an experiential artist and food designer who recreated the aforementioned subway tableau as part of an ongoing interview series with female creatives. Thursday night, Baltz kicked off her window installation by sitting down (on said bench) to chat with four talented New Yorkers: sculptor-slash-It-girl Ana Kras, model-slash-activist Yomi Abiola, and musician Nancy Whang. Needless to say, the artistic vibes were flowing—and naturally, DKNY captured it all via livestream.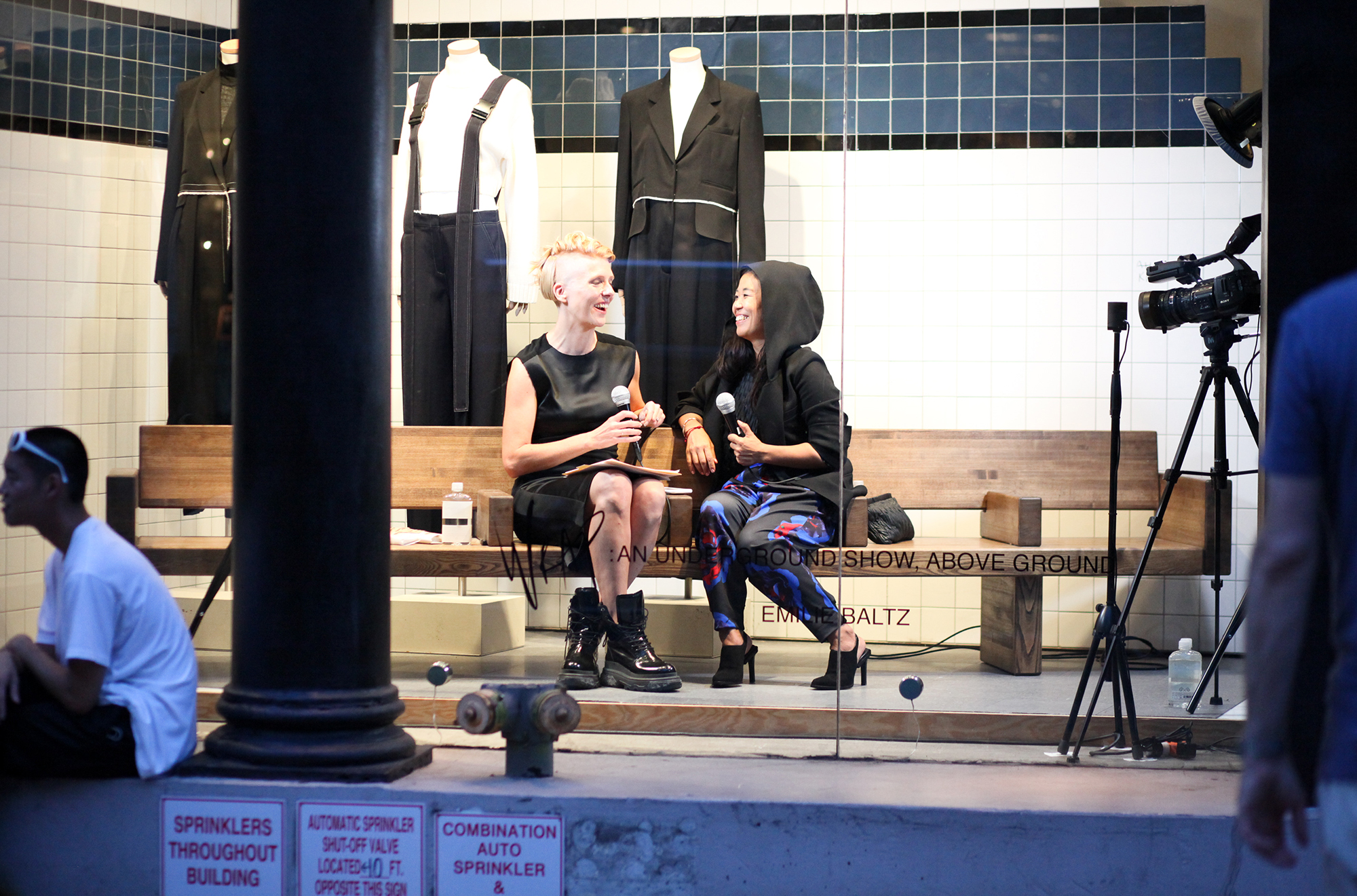 Emilie Baltz and Nancy Whang / Photo: Courtesy of DKNY
Skipping formalities and cutting straight to the marrow of things, Baltz demonstrated her prowess as an interviewer. She put her subjects incredibly at ease, covering not-so-standard topics that addressed universal truths and the artistic process, more so than the kind of press release talking points that regularly creep into interviews.
Perched next to Whang, who's best known as a founding member of LCD Soundsystem (reportedly coming out with a new album later this year), Baltz shot the breeze, chatting with the musician about her formative days in New York and how she accidentally got into music. They went deep into what it felt like when LCD disbanded, and discussed how "establishing yourself by 30 seemed so important, and looking back we were just kids then," according to Whang. But spirits ran high throughout the evening, and Baltz would often burst out with a comment like, "Burning question! Can you rap?" The answer: A resounding no, followed by lots of laughs.
Outside the store, fashion people and general passersby stopped to take it in, while a small crowd eventually gathered on the stoop. It was a New York moment to be sure, and that's what DKNY is all about.
Baltz continues her window installation interview series WRAP with 20+ weekly talks at the DKNY Soho Store, located at 420 West Broadway, through October 27th. In November, Nitzan Bartov will open her installation as the final leg of DKNY's The New Women's Project.
0 Comment