With designers like Altuzarra, Proenza Schouler, and Thom Browne—all previous NYFW mainstays—flocking en masse to Paris, some have suggested that showing a collection in New York has started to feel like a stepping stone. But for others, like Kirk Pickersgill and Stephen Wong, the duo behind Canadian cult brand Greta Constantine, New York feels like home.

Having previously shown in the French capital each season, the designers decided to hitch it to the Big Apple for Spring 2018, with their usual cast of Toronto-based models in tow. "It harkens back to that whole Halston era—the girls know our brand, they love the brand, and they can talk about it. They don't just wear the clothes," Wong explained backstage. "It's about people surrounding themselves with people they really enjoy being around—that element of closeness and good vibes."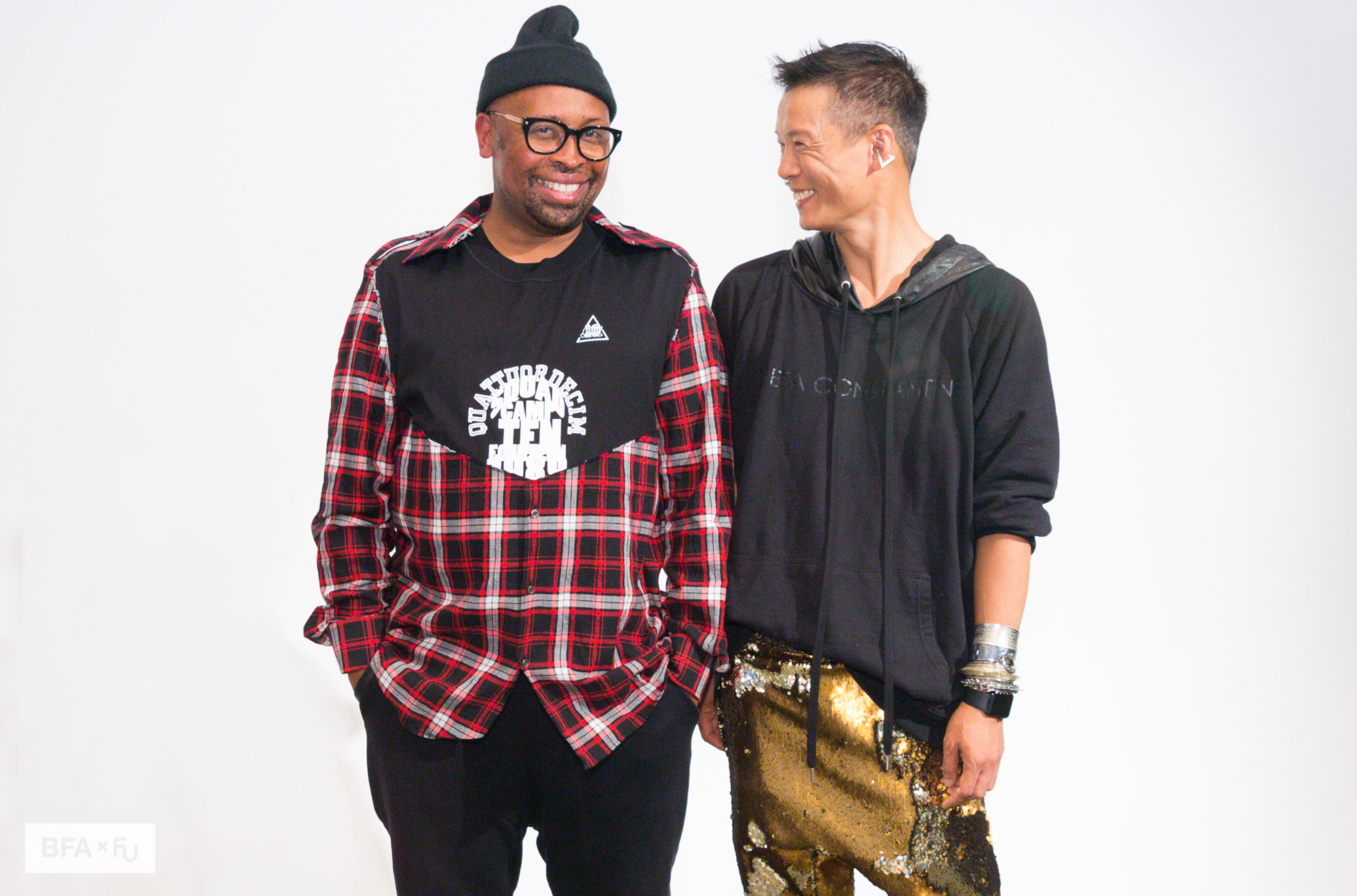 Kirk Pickersgill and Stephen Wong
Photo: Yvonne Tnt / BFA.com. View more at BFA.com.
And the good vibes were definitely felt last night. In stark contrast to the climate outside, both metaphorically (Hurricane Irma, the repeal of DACA, general political turmoil) and literally (gloomy, drizzly, generally unpleasant), Greta Constantine's outing was high-octane and fabulous—less stuffy and clinical and more like a sequined-filled dance party.

The inspiration? Why, Grace Jones of course. Fitting, given that they'll be hosting a party for her tonight in Toronto, where her upcoming biopic is set to debut. "We love Grace Jones," Wong said. "Who doesn't?" The collection had her name written all over it—silk tulle and crinoline abounded, while roomy, sequined tuxedo pants and metallic jumpsuits (look 16, a gold, Bowie-esque jumpsuit, even elicited a gasp) played starring roles.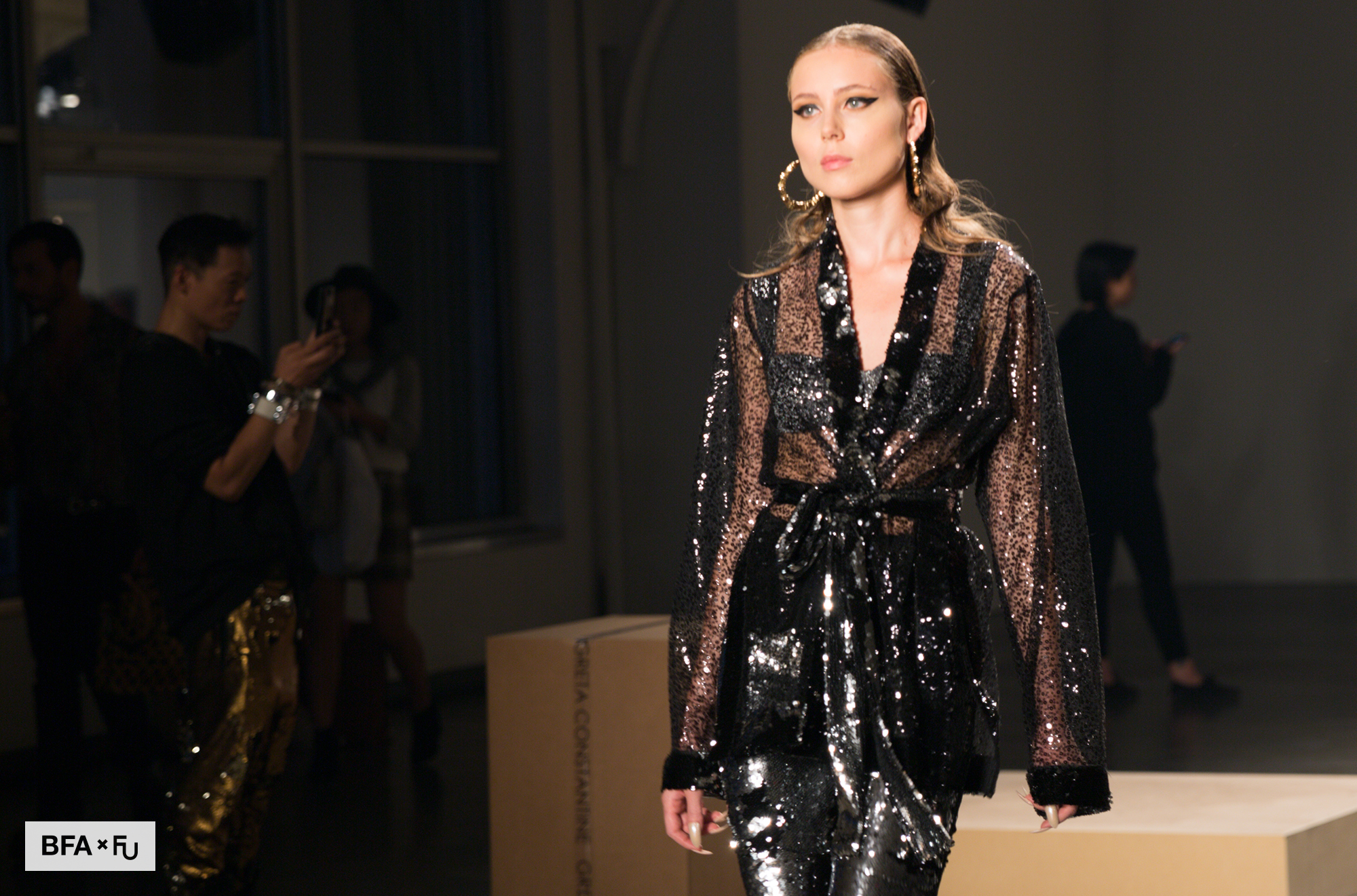 Photo: Yvonne Tnt / BFA.com. View more at BFA.com.
It's rare to see designers—and seasoned ones at that—so genuinely thrilled about a move from Paris to New York, particularly during what feels like an exodus. But for some, it just feels right, and it really is that simple. "Paris is great, but it's harder," said Pickersgill. "There's a certain kind of excitement in New York. We love the energy. It's alive here. Why not be here? It's funny—in our hotel room, we're like, 'Open the windows! Let's hear the traffic! Let's see the lights!' We're all about life and living."

And while Greta Constantine may not be able to salvage NYFW alone, they've certainly added a dose of badly needed optimism.
"In times like these, people just want to be happy again," Pickersgill said. "They want to see things that will make them actually want to wear clothes again. They want to see things that will make them smile." And for some people, all that takes is a little sparkle.
0 Comment