As Trump weighs withdrawing from the Paris Climate Accord (he'll make his official decision this afternoon), there couldn't be a more opportune time to reflect on the relationship between humans and nature. At the Museum at FIT, that connection comes in the form of a new exhibition called Force of Nature, which explores the interaction between fashion and the natural sciences.

"The fact that we are opening now and putting it up now is definitely timely," said curator Melissa Marra. "There's so much in the air about the environment and the importance of respecting our natural world."
On display until November 18 (it opened earlier this week), the exhibit is divided into seven different sections, from Botanic Garden and the Language of Flowers to the the Science of Attraction and Physical Forces. Each one examines how human-nature relations have changed over time since the birth of naturalism in the 18th century all the way to the sustainable technologies that have developed in recent years. Force also demonstrates how interconnected nature is to our world—specifically in the realm of fashion design.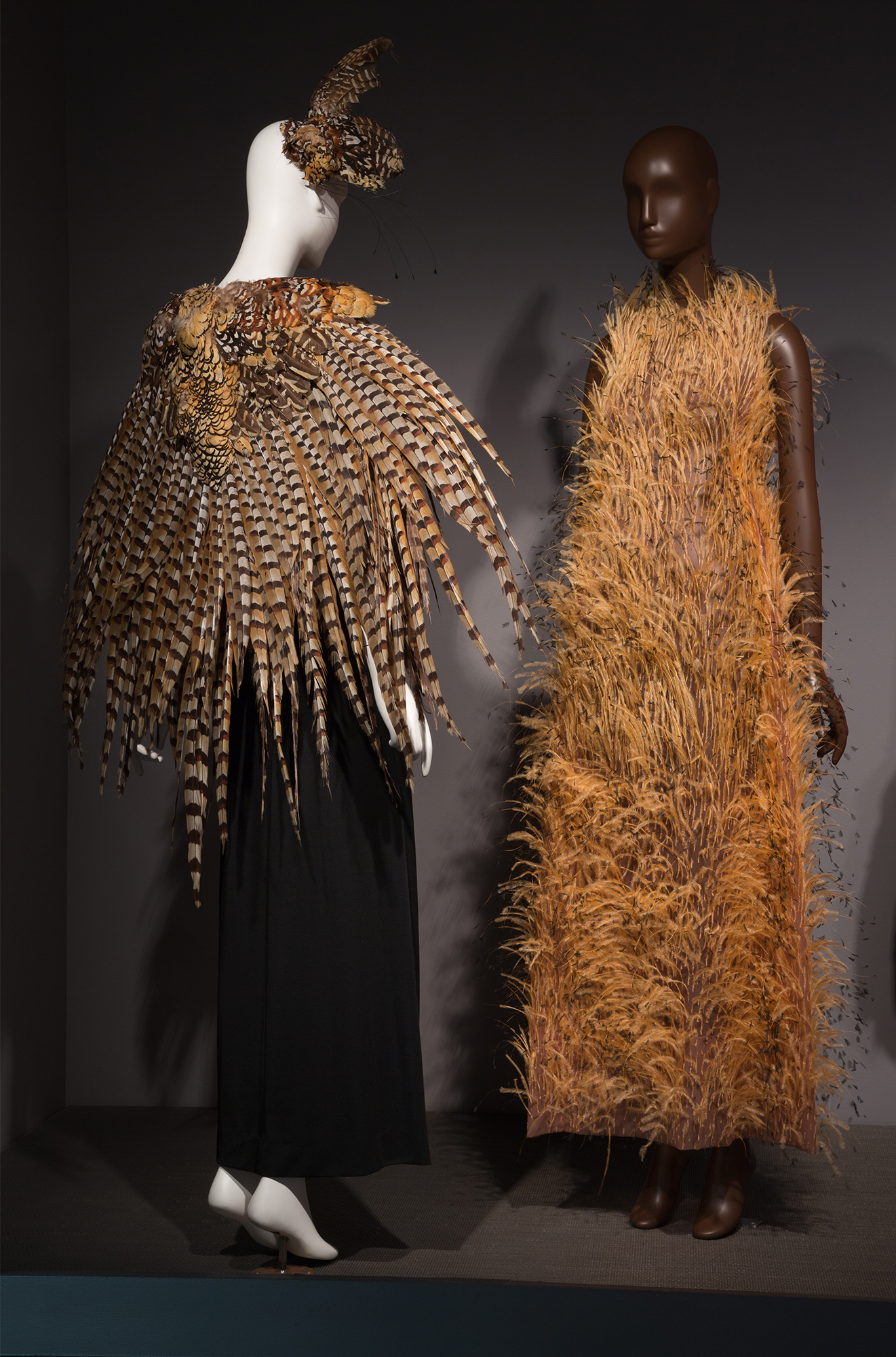 Left: Bill Cunningham, cape and comb set, 1960s; Right: Cristóbal Balenciaga, evening dress, 1967
Photo: Courtesy of FIT
Some of the themes explored are quite literal, like the use of flowers and birds in prints by designers such as Alexander McQueen, who featured them in his 2009 collection, "Natural Dis-Tinction, Un-Natural Selection," while others explore the naturalist way of thinking throughout the 18th century, something derived from Alexander von Humboldt, widely known as the father of ecology. "Plant life was so important in the 18th and 19th century, it was so pervasive and had such an important cultural impact," said Marra.

There are also displays showing exuberant use of feathers and animal skins, like a Bill Cunningham feather cape and comb set from the 1960s (yes, Cunningham began his career as a milliner) and a Valentino couture coat with cheetah skin details from 1974.
Elsewhere, sections focused on less obvious relationships between fashion and nature. Based on George Darwin's Development in Dress, Marra dove into the role of clothes in eroticism and physical attraction from a purely biological and evolutionary perspective. In the Science of Attraction section, she focused on how male and female dress changed over time, comparing male flamboyance to that of a peacock and showing how women's dress transformed females into ornamental figures in the Victorian era.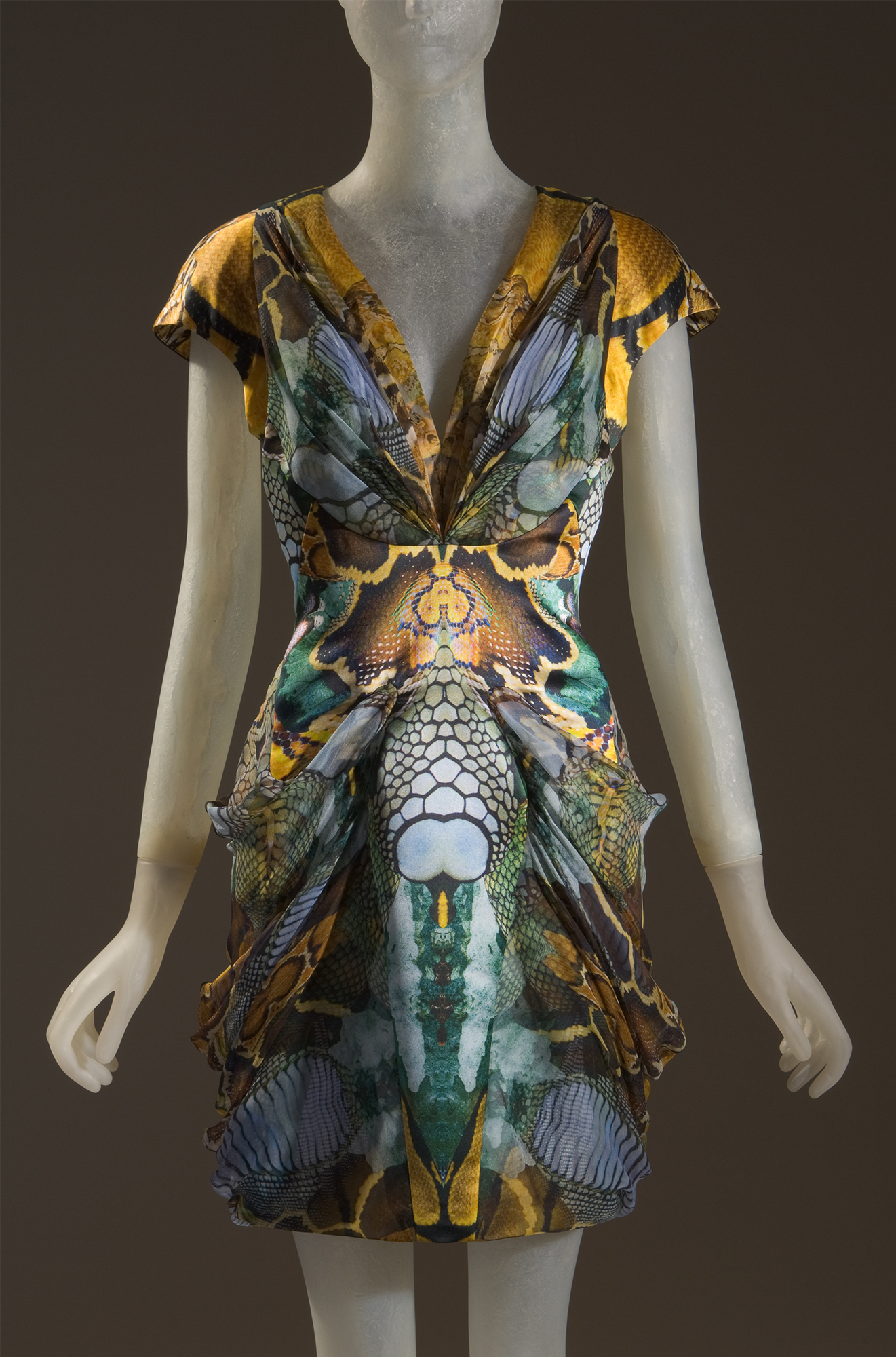 Alexander McQueen, dress, Plato's Atlantis collection, Spring 2010
Photo: Courtesy of FIT
It's worth noting that fashion's relationship with nature has often been more detrimental than inspiring, and the exhibit acknowledges that. (Fashion is the second largest pollutant in the world.) Marra focused on how things like production and manufacturing have evolved, from the explicit use of birds on hats (to the point that women were known as "the dead bird-wearing species" in the 20th century) to environmentally conscious activism from organizations like Panthera and PETA to fabrics developed via biotechnology.

There are a whopping 95 objects on display, and all are part of FIT's permanent collection, something Marra said posed a challenge when curating it. "Nature is so vast,"she said. "There's so much there, but once I started to do research it all made sense to explore an evolution over time."
While Force is indeed relevant, Marra said the research process took more than two years. Nevertheless, Trump and co.'s denial of climate change and the subsequent threats to agencies like the EPA have built momentum for the fashion industry—and FIT—to educate consumers about fashion's impact on nature.
"I think these conversations need to be had," said Marra. "I hope this exhibition helps further those conversations."
0 Comment