Shoe designer Paul Andrew sure knows his stuff when it comes to art and design references. In a collection that celebrates his five years in business, the gardens of Morocco, the arches of Di Chirico and the fluorescence of Dan Flavin offered plenty of fodder for a great outing, and that was just the set design at his Ramscale Loft presentation space.

But the designer said there was more afoot (all puns intended) for Spring 2018. As his irresistibly sexy and cool shoes have secured some solid retail styles, for this presentation, he wanted to focus on shoes that aren't in everyone's closet. "The market is so saturated with product. I want to give them something they don't have. These are shoes of desire--objects of art."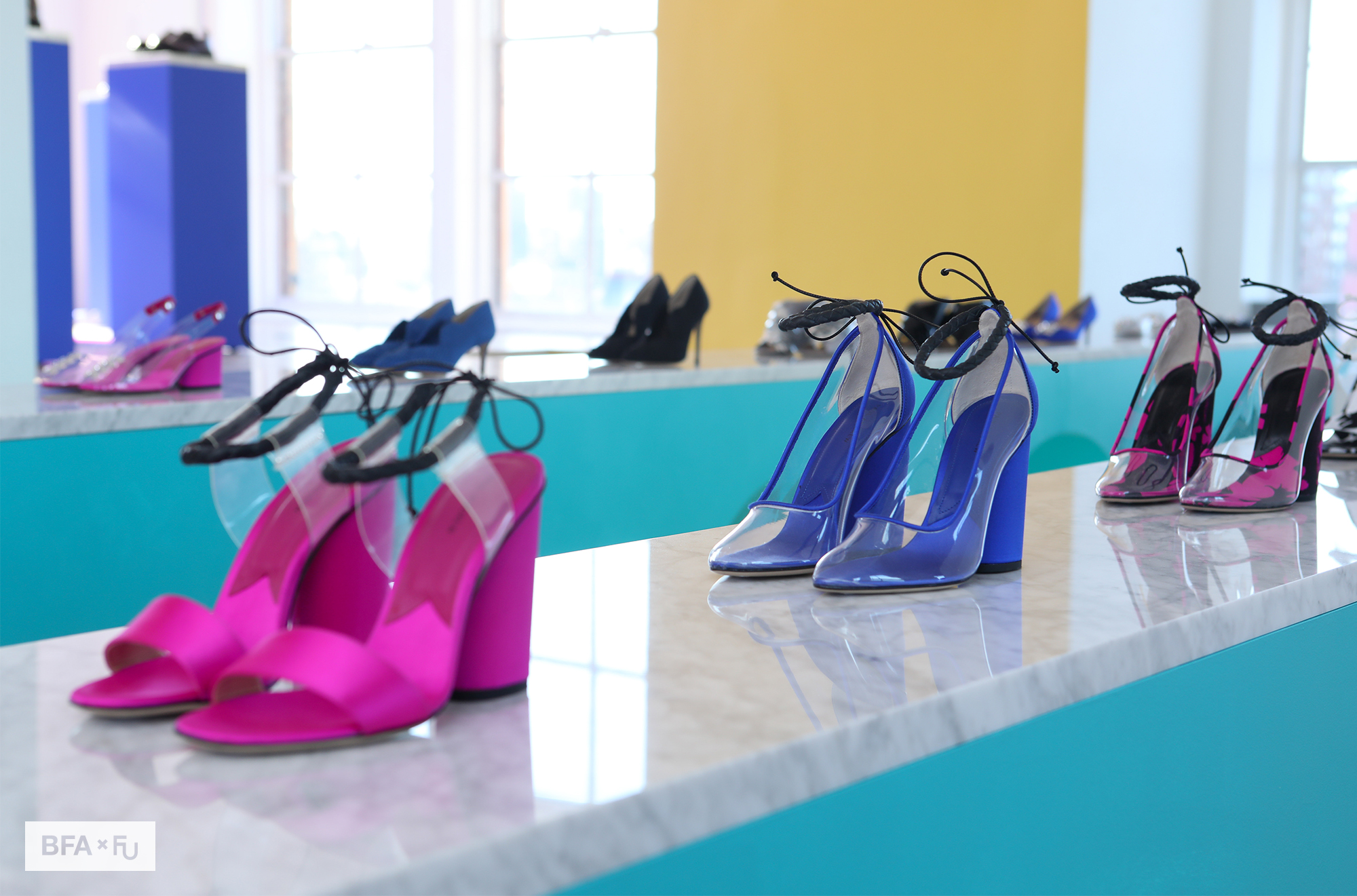 Photo: BFA.com. View more at BFA.com.
To that end, Andrew offered plenty of highly covetable designs—a platform group with pop art-print silk fabric was paired with PVC and rope; an explosion of paillettes was splayed across a chunky heel mule; tightly woven leather on a pump and booties had an artisanal touch; and cabochon-embellished buckle treatments referenced the German artist Wiener Werkstatt. A custom gingham fabric--everybody's favorite these days--came in red, yellow, and black with a bow on kitten heels and pumps, and a custom painted snakeskin was a head-turner, too.

As the presentation of painted shoes in bright hues to reflect the various inspirations began to wind down, fans and friends such as Alina Cho and Nicky Hilton Rothschild scuttled to get their social media shots, all the while tripping over the Flavin-esque neon tubes splattered among the risers displaying the shoes. The designer will depart to Milan next week to get ready for his latest offering for Ferragamo, where he is now the creative director of footwear. He is on his way to household name-status à la Blahnik, Louboutin, and Choo before him. While shows like Sex and the City made those brands famous, Andrew suggested a new approach was the answer these days. "Things are different today. Social media can make you a household name—if I had to choose someone, I'd like Ciara to do that for me." I'd bet she is already on the case.
0 Comment