Fall 2016 was a strange season. As I'm sure you've seen from our accessories roundup, trend almanac, and backstage beauty report, the shows were filled with bold, vibrant colors, glitter galore, unusual proportions, lush fabrics, and rich embellishments. All that sounds thrilling, right? False. Despite the many maximalist, OTT ensembles, the Fall season felt rather dreary. Perhaps it was the weather—New York fashion week was the coldest in recent memory, and London, Milan, and Paris were plagued with overcast skies and buckets of rain Maybe it was the abundance of sameness—was it just me, or did every other collection look like Alessandro Michele's eclectic Gucci; appropriate Vetements' gritty, oversized aesthetic; ooze Saint Laurent's glam rock angst; or straight up knock off Martin Margiela (deconstruction was the name of the game for Fall)? There's always some overlap and unspoken nods to the previous season, but this time around, it felt so glaringly obvious. Though, as Daria Strokous, FU's artistic director-at-large, noted, it's hard to create something fresh when speed and quantity are often valued over innovation and quality. "Some designers do six collections in a year, and that means that they can't be creative anymore," she told me in a recent interview. "I mean, you cannot possibly sit down every day and spill designs on paper. It's all about 'more.'"
That brings us to the most obvious reason Fall was so bizarre: The uncertainty surrounding the shifting state of our industry. For the last few years—particularly since the rise of social media and instant online fashion publishing—insiders have been discussing the relevancy of the runway show, whether the fashion cycle makes sense anymore, how to keep up with the consumer demand for "newness," and what to do about designer burnout.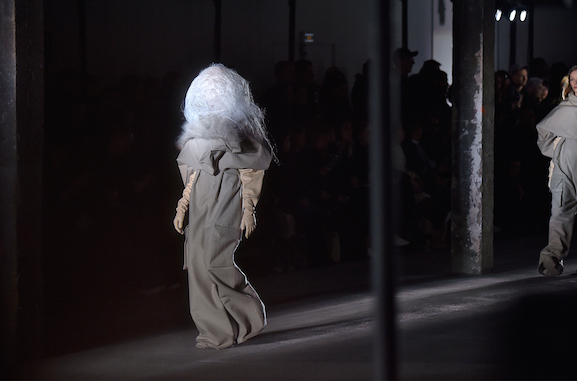 Rick Owens; Photo: firstVIEW
This season began with Burberry, Tom Ford, and Rebecca Minkoff announcing that they would be adopting a "see-now, buy-now" model, that is, the clothes they debut on the runway will be immediately available to consumers. Proenza Schouler, Monique Lhuillier, Michael Kors, Paco Rabanne, and more followed suit, releasing small runway capsules that could be shopped right after their shows. It's all about that insta-gratification.
As we learned from our "What The F#@%, Fashion?" series, some insiders, like Paper's Mickey Boardman, Bergdorf Goodman's Linda Fargo, and Neiman Marcus' Ken Downing, think it's about time for a shift. "It's important that all of us in the industry realize the fatigue that the customer is experiencing waiting for product to arrive in stores six months after they're seeing it on social media, in advertising campaigns, and on celebrities," offered Downing. "The schedule needs to be adjusted. I hear not only nationally, but internationally from my customers that they want it when they want it and they don't want to wait."
Others are more skeptical. For instance, Love EIC and stylist supreme Katie Grand told me, "I think it makes sense for designers in one way. However, I don't think it's particularly healthy for doing super creative work." And Fargo, while asserting that something indeed must change, observed, "I think everybody wants everything faster. But we cannot at this point get around the fact that it still takes a good four or five months to produce designer-level clothing. I mean, fast fashion has its own cycles…[but] this is luxury."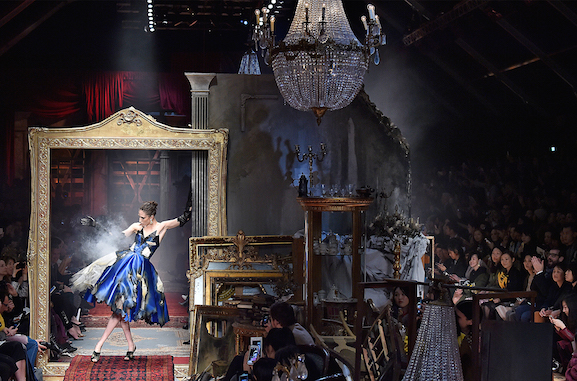 Moschino; Photo: firstVIEW
Anyone who read the CFDA's case study about the future of fashion week knows that there is no solution in sight—not in the near future, anyway. But what I found most interesting was how designers responded to fashion's many unanswered questions through their shows and their garments. Take Rick Owens. The thoughtful provocateur produced a hand-draped collection that was, as he described it, "as far away from fast fashion as I can do." In fact, his entire PFW production was a direct response to fashion's increasing pace. "I'm responding by my draping," he said after his Fall outing, which he titled "Master Bomb."
Earlier, in Milan, Jeremy Scott set his Moschino wares on fire—Anna Cleveland danced out in a gown that was literally smoking. This, in part, symbolized the state of the industry. But Scott also chose to burn his garments because as the fabric melted away, his handiwork, specifically the feats of construction that are oft hidden beneath the surface, was exposed. It was a dramatic vehicle that allowed Scott to show just how much labor and craftsmanship goes into making a beautiful dress, or a Le Smoking tuxedo. Speaking of, the cheeky designer also debuted a cigarette-themed capsule collection, which, as his capsules have been in seasons past, could be purchased right after the show. "It was a commentary about how people are so addicted to fashion," Scott explained. "They want it now and it's so addictive."
Jonathan Anderson, too, made a reference to nicotine addiction. At Loewe, the talent began his show with a hypnotic, soothing self-help soundtrack that encouraged attendees to quit smoking—apparently, he had gotten it from London's Harley Street Stop Smoking Clinic. "I just wanted something that was calming," Anderson said. What a nice thought. How lovely would it be if we could all just calm the eff down?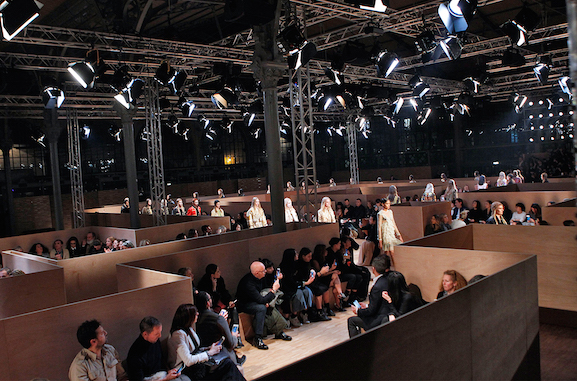 Givenchy; Photo: firstVIEW
Sometimes, designers embedded commentary into the format of their shows. "I feel like everybody's really bored with shows—they're on their Instagrams and not really looking," said New York's Maria Cornejo. Her solution? She kicked off her Fall outing by having models take a lap in complete darkness. "I thought, to save [everyone] the energy, I'd start the show back to front, and I'd catch their attention because when [all the models] come out, you can't ignore them. They're like an army." Marc Jacobs proved that fashion of the highest caliber still exists in New York. His runway reminded editors that fashion provides an emotional experience, and that the show exists in order to communicate that. "I would challenge anyone who saw the Marc Jacobs show in New York to feel the same looking at it online as they did in the building that day," Grand, the show's stylist, asserted.
In London, Phoebe English's crochet-clad models all had to take tickets, sit on a bench, and wait for their number to flash on a screen, at which point they were called up for sartorial inspection. "The inspiration is the repetitive, never-ending cycle of fashion," she said. And at Paco Rabanne, Givenchy, and Sonia Rykiel, models frantically wove in and out of complicated, maze-like catwalks. It all seemed to scream chaos!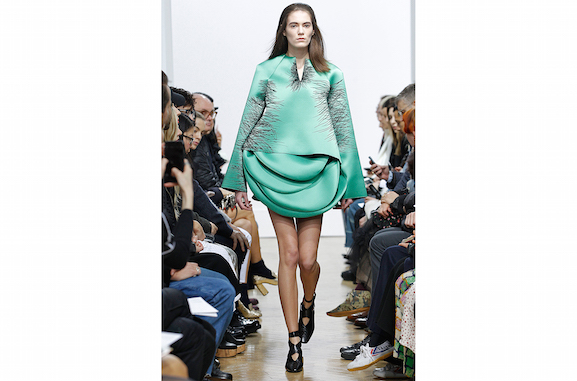 J.W.Anderson; Photo: firstVIEW
The idea of anxiety and discomfort reigned at J.W.Anderson, too. At his LFW show, Anderson packed editors into ultra narrow corridors like sardines. "I like this idea of confrontation," he explained. "We reduced the space to reduce the focus—you kind of have to hone in on snapshots. This came from the idea of being immersed in the look." We were all consumed by Anderson's designs because it was quite literally impossible to look anywhere else—if you tried taking a snap on your iPhone, you risked smacking a model as she passed. (Could you imagine that meme?)
Anderson later touched on something I felt captured the essence—or, at least, what should have been the essence—of the season. "It should be about the clothing," he said of his show "I love fashion. That's why I work in this business. It's about enjoying fashion, [and] trying to get some sense of dialogue in the clothing. That's what's important to me." Yes, fashion is a business with an antiquated business model, but with all the fuss surrounding Instagram posts, Snapchat stories, celebrity front rows, retailing at the speed of light, etc. etc. etc., have we completely forgotten about quality clothing and where that comes from? Have we fashion folk forgotten fashion?
Chanel; Photo: firstVIEW
At Chanel, Karl Lagerfeld was determined to remind us. It was significant that a designer known for his flamboyantly themed, Instagram-friendly runway spectacles dressed up the Grand Palais not as an art gallery, or a supermarché, or brasserie, but Coco Chanel's mirrored atelier. The theme of his collection was clothing. His novelty bag of the season was a spool of thread. It was brilliant. As I watched the models stomp the runway, I could imagine Lagerfeld rolling his eyes behind his signature sunglasses and saying, "Hello, people! Rome wasn't built in a day, and neither were these tweed suits!" It's worth noting that Paule Ka's new creative director, Alithia Spuri-Zampetti, also staged her Fall presentation in a mock atelier, with models posing alongside huge rolls of fabric, sitting on cutting tables, and even standing on blocks while "designers" pinned, sewed, and tugged at their gowns.
Perhaps Thomas Tait, who dared editors to get up close and personal with his insanely intricate, hand-embellished Fall offering via an intimate presentation at a Paris gallery, explained fashion's confusing state best. "There's a segregation between the commercial and the media aspects of the industry, and it's all become quite blurry because the media side has expanded into pop culture with celebrity endorsements, celebrity dressing, and especially with the immediacy of the Internet," he mused. "That projects an image of accessibility that isn't technically precise because there aren't that many retailers who sell the kinds of clothes [people are seeing]. I think the illusion of fashion is becoming even stronger."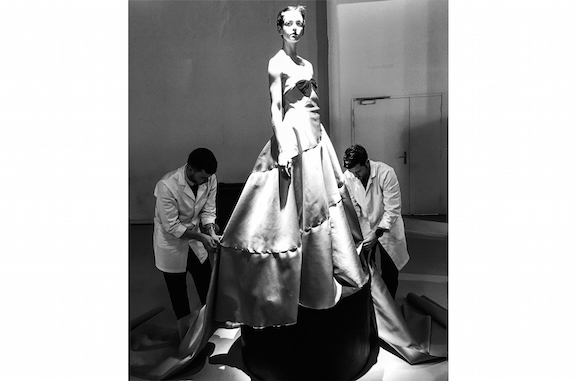 Paule Ka
Some brands with big budgets and big teams can keep up with that illusion and make it a reality. Others can't. So what do we do? Well, we could bar the media from releasing imagery until the collections hit stores, only that won't work because some sneaky fashion spy with a smartphone will inevitably post everything to social media. We could shift the production cycle, but that would mean the fabric mills and artisans would have to shift, too, and getting them on board is a whole other journey. We could speed things up, only no, we can't, because designers are going mad, and how quickly can someone really hand-bead or embroider or stitch together the fantasies luxury consumers want to wear? Not to mention, how will designers know what to produce, or buyers know what to buy, if the clothes are to hit stores the second they debut on the runway? We could just tell everyone to be patient, take a deep breath, and wait a few months for the clothes—only no one would listen (thanks, Internet). Or, we could just leave things the way they have been, and keep complaining about it. So many non-options!
There is one solution that I'd like to propose. It won't fix everything, but it's a start, and after talking in circles on the topic with everyone who would speak to me from New York to Paris, I don't think I'm alone in supporting this method: You do you. There is no universe in which one model will fit every brand. That's a bitch for buyers, and I don't have an answer for how retailers will adjust to different brands working at different paces. That being said, brands, for the most part, know their customers, and not every customer wants the same thing. If they did, there wouldn't be such a ridiculous number fashion shows. So make what your customer wants, but for the love of god, make it well, because regardless of whether it arrives in six months or six minutes, no one wants a mundane, poorly-crafted, boring old outfit. Most people willing to shell out three, four, our five figures for a dress or an accessory love fashion. And if those people love something, they're going to buy it regardless of the timeline. They just need something worth loving—they need fashion.
0 Comment