There was a quietness to LC:M this season. Perhaps it was because there were simply less shows—Burberry, for instance, usually the splashiest, most nationally celebrated brand of the week, gave us a relaxed cocktail party instead of a blowout show production, as both Burberry's men's and women's collections will be presented in September.
Maybe this silence was about newness. Since its 2012 inception, LC:M has been the place to go for the freshest, oddest, most unabashedly exploratory collections in menswear, and this season, the once new stars are feeling established. Grace Wales Bonner, the latest fresh dazzle of London, gave us her first stand-alone show outside of Fashion East. The heavily ivory-hued collection, dubbed Ezekiel, looked to Selassie, the Rastafarian-regarded black messiah, as well as traditional Western formalwear (see the slim-cut double breasted suit jackets) for inspiration. It was subtle, tailored, and comfortably presented—even the new feels grown now.
Perhaps the subdued nature of LC:M is really about growth – there are not only fewer shows, but the ones we are turning to are no longer shocking. They are rather sinking into developed codes and statements. Maybe, in the rush between Resort and men's, we just aren't looking closely enough to find excitement.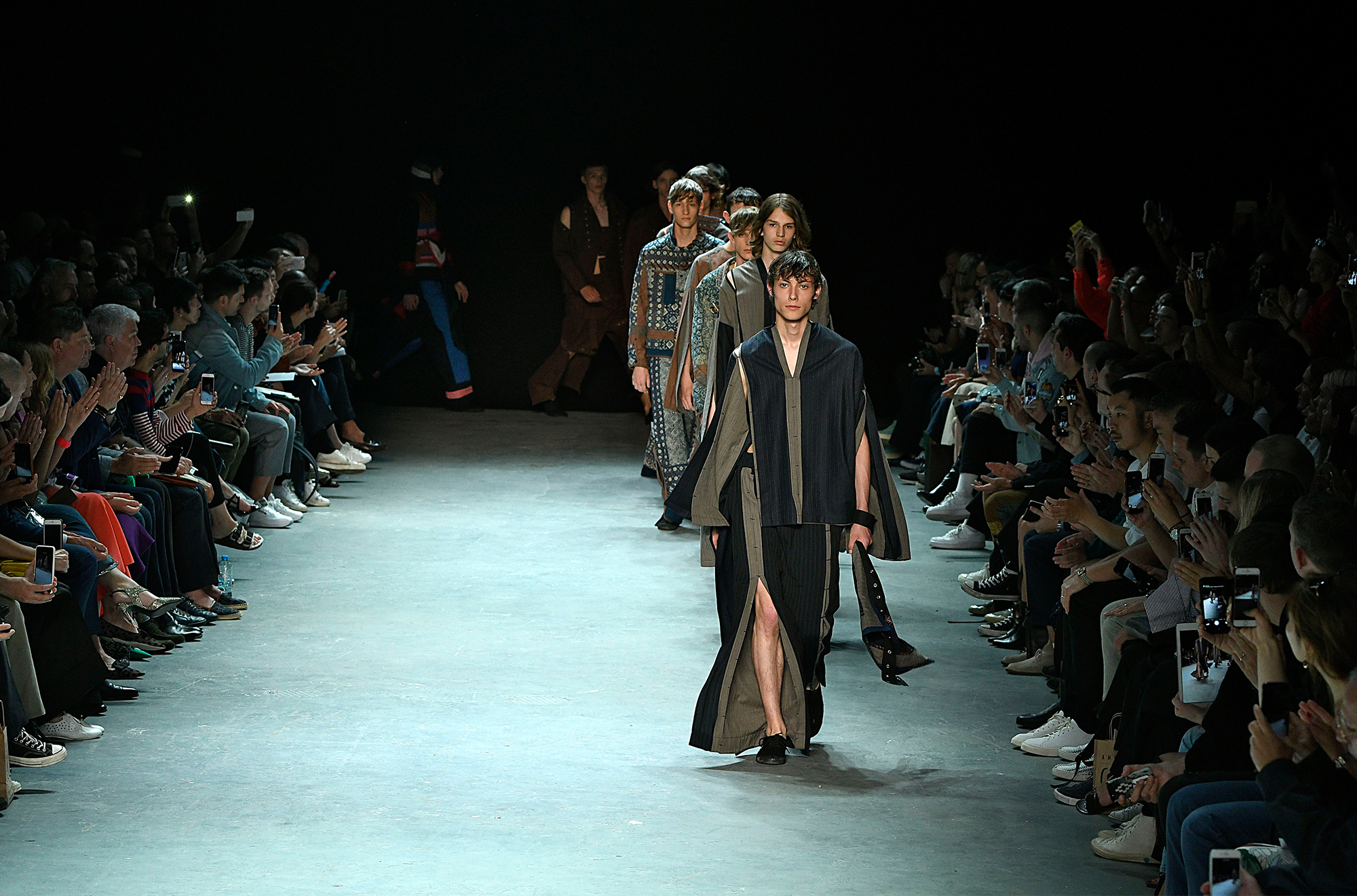 Craig Green / Photo: firstVIEW
Craig Green, one king of LC:M, gave us subtle, somber workwear mixed with his first takes on suiting. The trench, the jacket, and classic office slacks were deconstructed and laced back together with strings; pants and shirts were missing backs, and were held together by sensual, gender-ambiguous lacing instead. It was beautiful, and presented with near silence over frenzy.
At J.W.Anderson, the conversation turned to childhood fairytales. The models were boys, dressed in swinging wide leg trousers, exaggerated super-long, candy-colored knits and makeshift crowns, channeling Little Princes flown to earth. These dandy boys were out there—their knits were bleeding, the jackets were open, with Lichtenstein women embroidered on their fronts, and plaid shirts came in purple, with massive almost dress-like proportions. There was serious play involved for Anderson this season, and the collection exuded sweet, otherworldly, isolated creativity. It was so creative that it was almost hard to place.
Christopher Kane's offering—street-driven, as always, looked to police wear, prison uniforms, and the graphics of the Glasgow home for reference. It was tech heavy, contextually political, and highly pragmatic.
In other places—see the intensely deconstructed denim looks and ultra-club ready gender-flirting celebrations at MAN—experimentation was ripe, but it didn't necessarily feel new.
The theme seems to be clear: LC:M—pared down, and with just as many women as men strolling down some runways— is growing up, quieting down, and seeming, bit by bit, becoming a place to look for a few specific statements, detailed to each designer in view, above a general creative flourish.
0 Comment