Milan Fashion Week was apparently quieter this season than in years passed—I wouldn't know, as it was my first visit. But I do know that everyone spent a lot of time bemoaning just how long it took to get everywhere, and chatting with their seatmates, during those 35 minutes to an hour of waiting before the shows started, about just how little there was to see, and whether or not what was there—mainly, Gucci—held real resonance.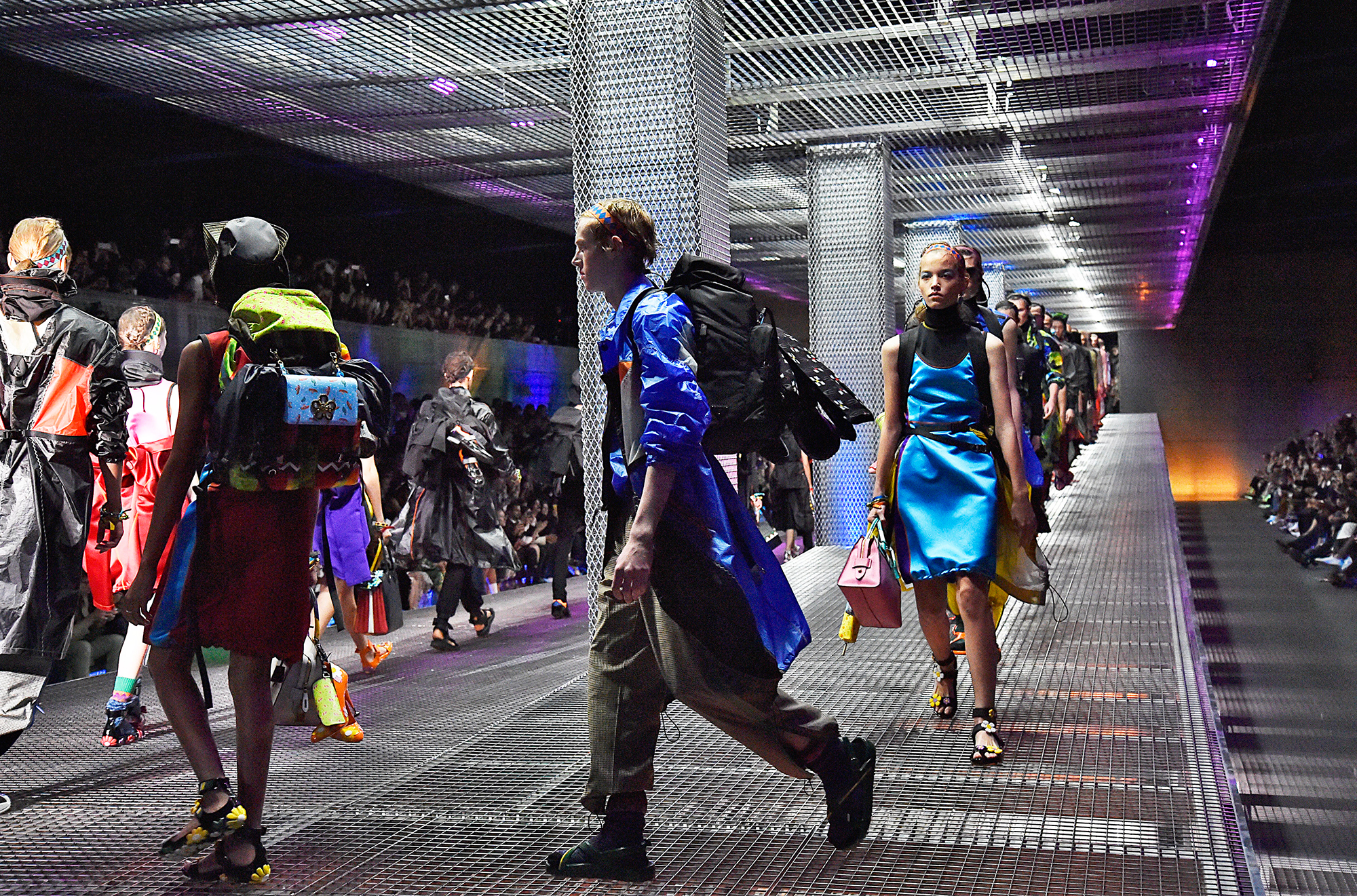 Prada / Photo: firstVIEW
What we did see was either simultaneously flashy—Philipp Plein is, of course, the most obvious example, but there's also Versace (with a fabulous Bruce Weber video), Diesel Black Gold (in it's own way), Dsquared2 (which, more than flashy, was loveably celebratory, and, with glittering boots and the designers' rainbow scarves, a subtle nod of prideful solidarity after the Orlando tragedy) and others—and commercial (those Versace tanks and sweats barely need diluting to sit on the Vegas flagship floor), or of its own very special world (see: Gucci, Prada, Damir Doma, No. 21 to a certain extent, Vivienne Westwood, and certainly Marni).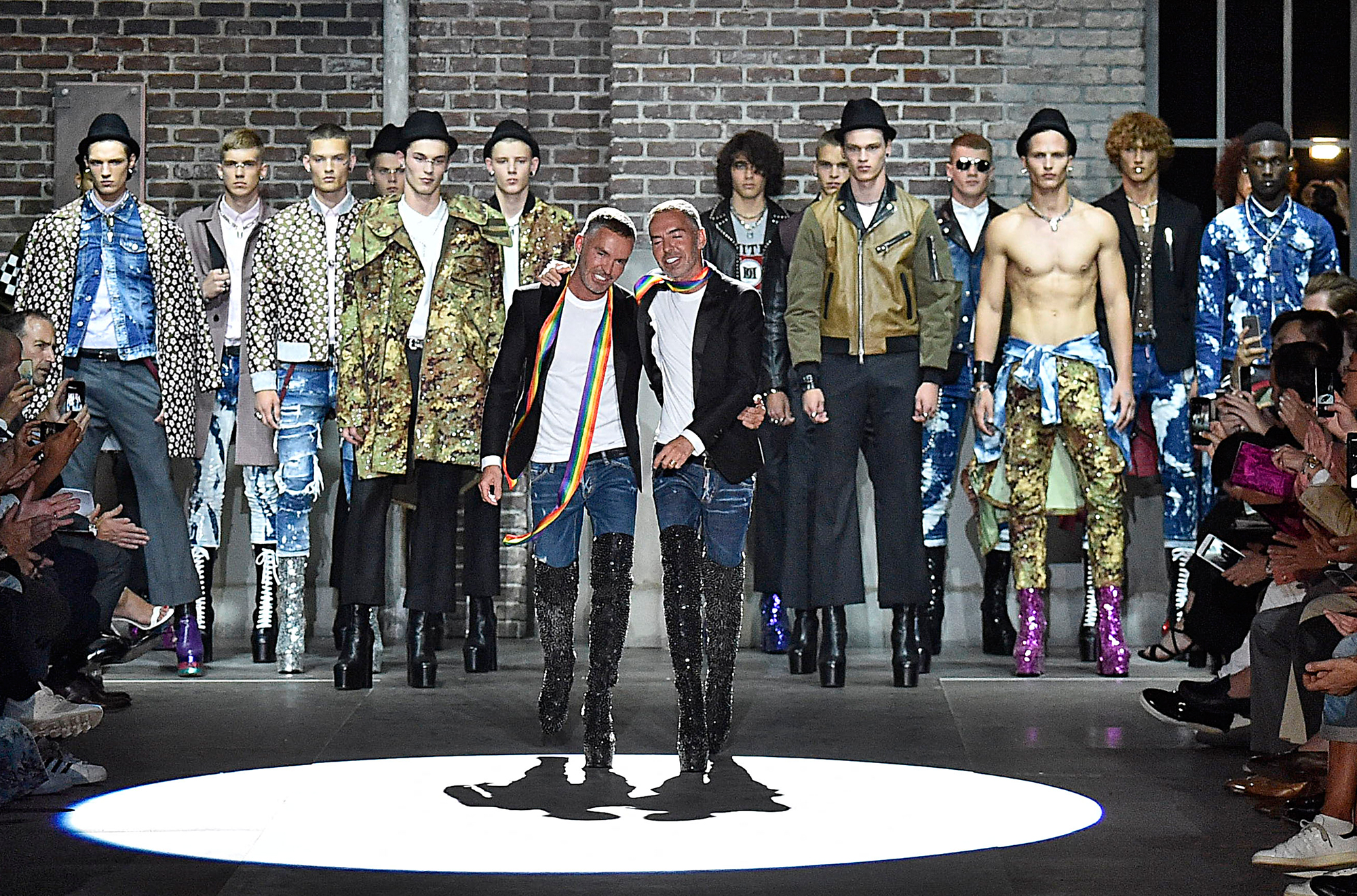 Dsquared2 / Photo: firstVIEW
Travel was a theme—the Prada man and woman took to a silver gridded mountain in electric neon hiking gear; there was a braveness, a survival mentality (these pioneers carried their city gear with them in their massive Nylon backpacks) and a slight rave feel in the collection. The Gucci dreamer went to Alessandro Michele's Tenenbaum-eccentric Oz by way of Marco Polo's mythical, mythical (colonialist?) voyage; Missoni recalled Angela's teenage travels and went to a South American ranch; Fendi went to the pool by way of Pablo Picasso's personal style. It almost felt like Resort never ended. (In the case of Prada's women's offering, this was it.)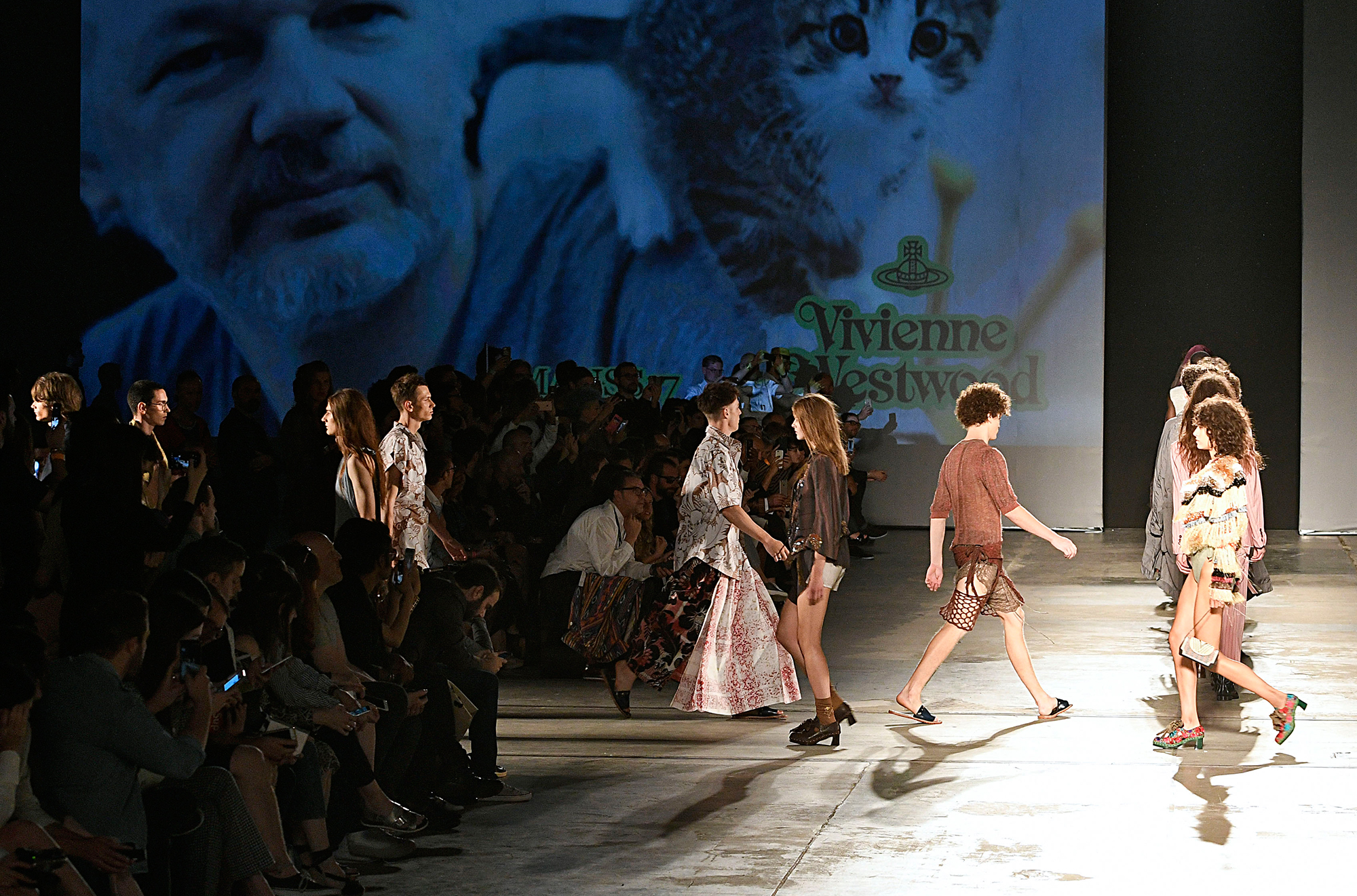 Vivienne Westwood / Photo: firstVIEW
For several houses, men's and women's were presented together and without much differentiation in fabrication at all. Vivienne Westwood's earthy, androgynous velvet jester pants and gauzy knit dresses were made for a world where gender means nothing; this designer is always political, and the message here was less about personal identity politics—man, woman, who cares—and more about the vision that comes when one takes the progressive lifestyle that much further. (Westwood asked her audience to free Julian Assange, for instance). Likewise, Gucci lacked any real distinction between the flourishes of men's and women's. And No. 21's Alessandro Dell'Acqua gave us men's looks that will also come in smaller sizes for women. At his campaign video shoot, he let the boy and the girl pick the clothes themselves and dance as they pleased. The theme was a '90s rave injected with a modern (and No. 21 lace-enhanced) spirit. The looks reflected this sense of streetwise freedom.

Many houses seemed to be looking first and foremost to give the buyers what they want. Some—namely Philipp Plein—threw a now-predictably absurd show/bash that seemed to say, even in this era of industry uncertainty, more showroom appointments, and the fusion of men's and women's schedules, we can still do flamboyance. Or perhaps even more than an example of shameless performativity, it was just a way to prove that somebody still has cash to burn.
As for visions of depth? They were there—in Miuccia Prada's nylon backpack-sporting, leave-it-all-behind-except-for-what-you-have-on-your-back vagabond, in Damir Doma's shy, raw-edged intellectual, in the sheer imaginative richness of Michele's still-fantastical Gucci costume feast—but they were not constant. You have to wait, and you have to look.
0 Comment