The mood at Paris men's was subdued, maybe even desolate. For one, there was the Brexit—unexpected and causing a dark commotion midway through the collections. There was the weight of the American tragi-comic election cycle—far away, but still there, at a distance. There was the passing of Bill Cunningham. And then, of course, there were the collections themselves, which seemed to focus on concepts of failure and neglect, and the increasingly relevant topic of travel based on necessity over pleasure.
Yohji Yamamoto, for one, wrapped his models' faces, shoes, and arms in bandages as a reminder that we're all carrying the scars of everyday life. His show was based on concepts of layering, the Gypsy aesthetic, and personal failure. One theme in particular was "I am a slump." It doesn't quite translate, but the general idea is that he never quite finishes anything adequately. There were seams left raw on deconstructed, asymmetrical army green jackets, off-white sailor shorts with hand painted black stripes that extended only halfway down the thigh, and other "neglected" touches.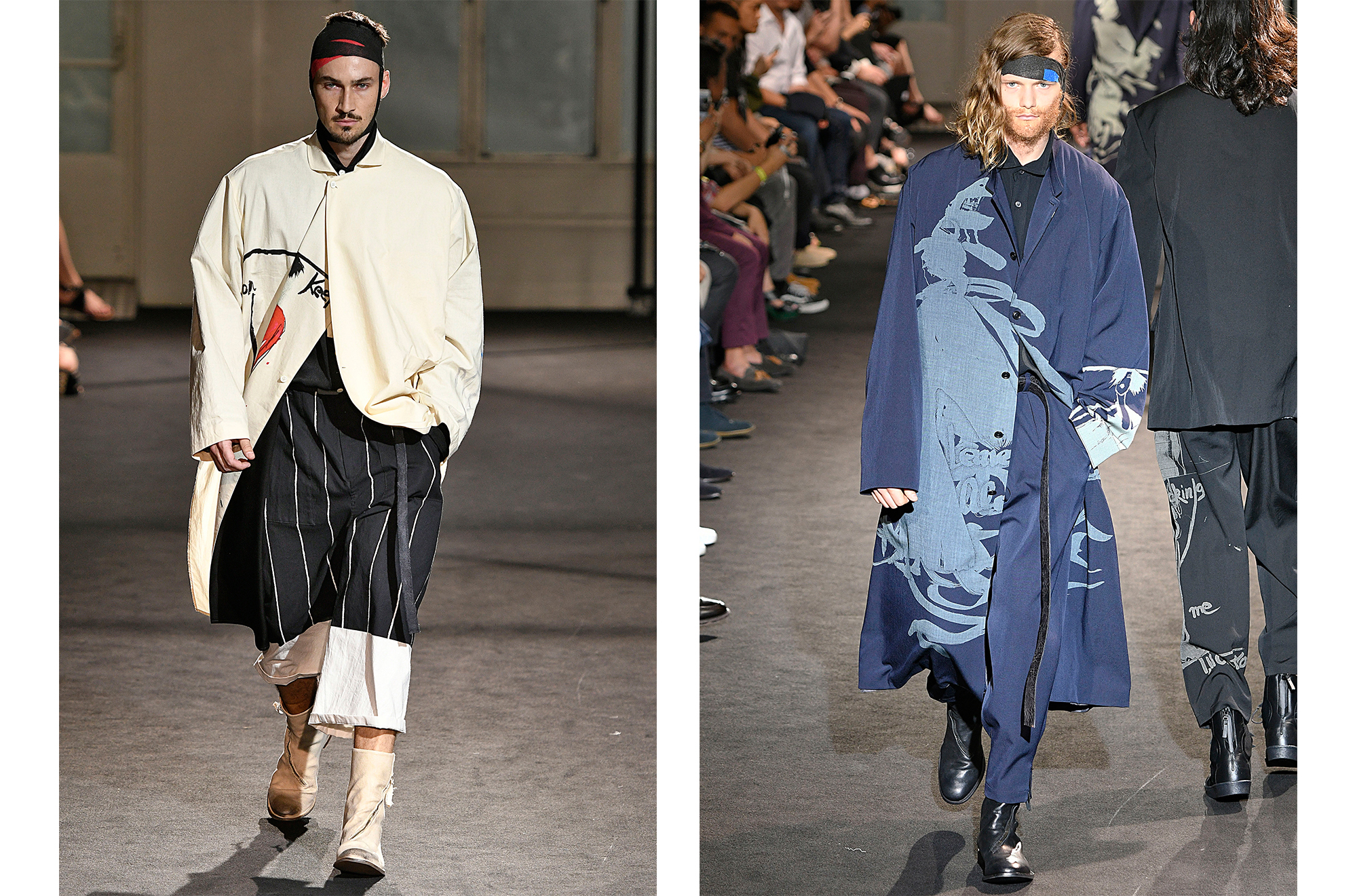 Yohji Yamamoto / Photo: firstVIEW
Rick Owens, who presented in the industrial basement of the Palais de Tokyo, also suggested that his Spring 2017 collection was somehow characterized by the incomplete. His starting image was a boy who becomes a walrus—weird, as we would expect from the cult designer. Owens focused on draping—giant swaths of jersey were twisted and sewn into elongated shirts, and sheer pants were billowing, also draped at the waist, replicating a flowing, "walrus-like" image.
Dries Van Noten's collection was beautiful—richly deconstructed and filled with prints of dusty Enlightenment-era florals and fringe-enhanced ocean blue cowboy coats. He said the collection was inspired by 1960s and 1970s arts and crafts. But by the looks of it, it was just as much about deterioration and the error and innate unraveling that comes with any act of the human hand.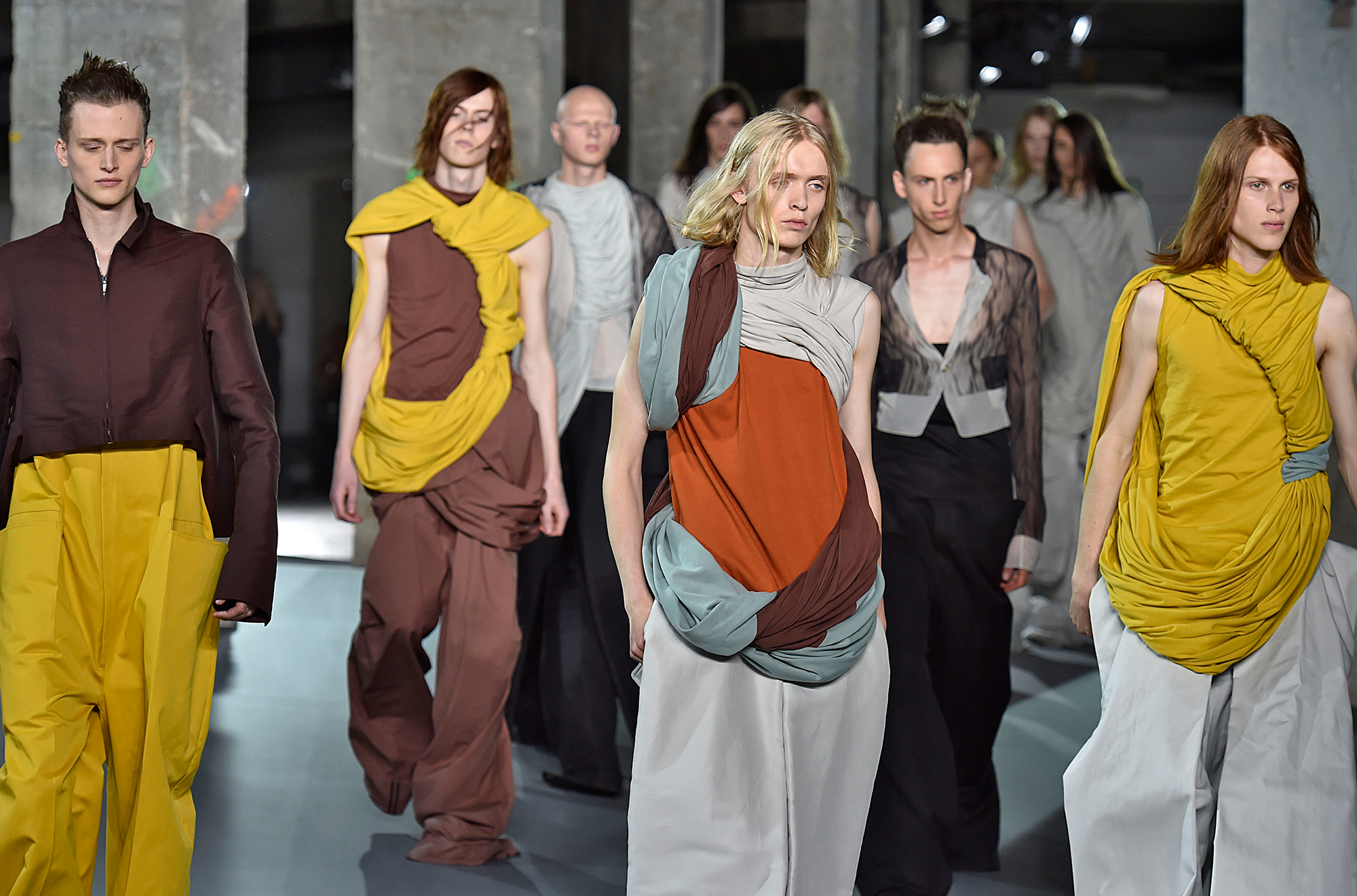 Rick Owens / Photo: firstVIEW
In another subtle look towards the bleak, Jonny Johansson looked to the emptiness of Swedish summer for Acne Studio's Spring collection. The majority of the looks were made for the rain—waterproof parkas and anoraks in deep blue, sleek pants and inky, vinyl jackets. Cold wares for the rainy, quiet humid months.
Glances backwards—at Dior Homme, with Kris Van Assche's homage to the punks and new romantics at the fun fair he visited as a kid in Antwerp, and Balenciaga, where Demna Gvasalia re-imagined Cristobal Balenciaga's own unfinished coat in eye-catchingly wide proportions—were somehow more optimistic than all the current (or even the future—see Y-3's survival of the fittest, space age, athletic-wear) ponderings.
With the rare exception, the Paris men's collections of Spring 2017 will have us looking directly at what unnerves us. Appropriate, given that, right now, there is so much by which to be unnerved. But at least in Paris, there was beauty in the anxiety.
0 Comment