The designers showing at Pitti Uomo really went for it this season. There were sexually aggressive, embroidered, shredded, denim-sporting middle-aged men giving the flamboyant vibe of unbridled machismo at Fausto Puglisi; sanguine, swinging, sand-shaded knits from Lucio Vanotti; the whips and leather of '70s Mineshaft boys portrayed in Mapplethorpe's lasting imagery through the clean eye and quiet designs of Raf Simons; '90s Italian athleticwear given Gosha Rubchinskiy's cult Russian streetwear treatment; and Visvim's uniquely Japanese take on the Western fables of America's past. In short, many different men, or in Gosha's case, boys, were portrayed in full and suggested with force over the past few days in Florence.

Fausto Puglisi, who showed at Stazione Leoplda on the first night, gave us perhaps the loudest vision of a man. He looked to gritty, overtly "masculine" protagonists of dark American dramas – Robert DeNiro in Taxi Driver, for instance — for unrestrained reference. And the clothes, with his signature embroidery, no-holds-bared bedazzling, and Greek iconography mixed with raw-edged jorts and copious leather additions, suggested that sometimes the most aggressively manly aesthetic aspiration may also be the most warmly flamboyant. After the show, I learned that many of the models are prisoners Puglisi scouted; the men were bused in with a guard for the show. (Will we have more convict models in the near future? Remember "Hot Convict" Jeremy Meeks? He was recently released from prison and signed a modeling contract with White Cross Management.) Puglisi said he was looking for realness, for something raw. There is a lot of amped-up, testosterone-heavy fantasy at play alongside this unavoidably of-the-real casting; it's flashy, for sure. Maybe the spectacle is where some find their authenticity; maybe it's all a Versace-style escape.
Gosha Rubchinskiy, with a characteristically opposite approach to Puglisi, gave us his own stark, irony-tinged collection of aloofly brutal, sex-tinged suiting and pre-adult, '90s Italian sportswear. He showed his wares the night after Puglisi, in the most Russian-looking building the Renaissance city had to offer. From the coolness, dark humor, and '70s athletic proportions to the electric-shaded soccer streetwear and the nihilistic beauty of the flapping formal pieces, Rubchinskiy's collection conjured a teenage boy who is growing up, or quietly dressing up, a little. He also engaged with the Italian location in the most close-to-home, this-is-who-I-am way possible. The show stood alone. There are a lot of ways to do Pitti.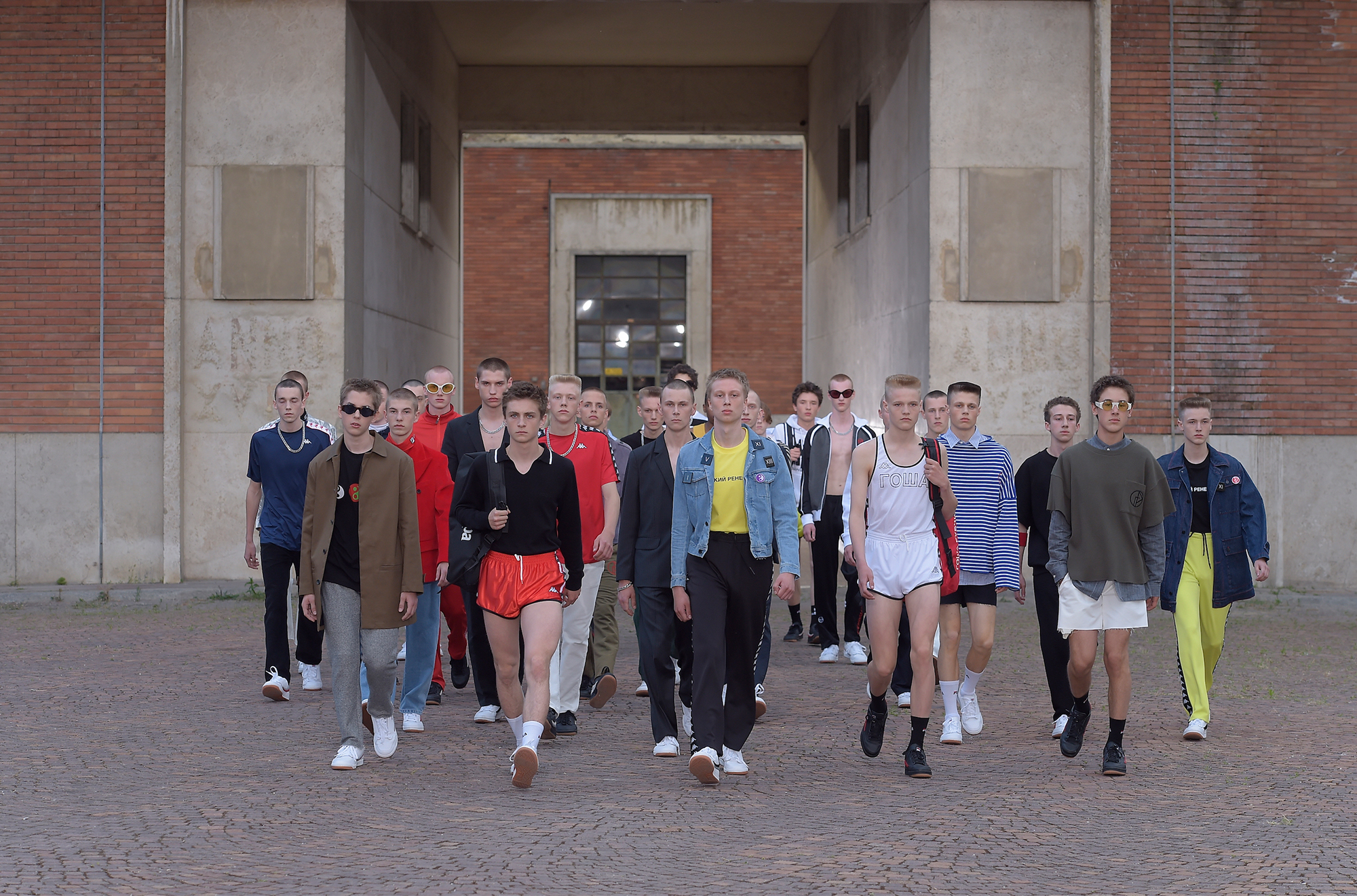 Gosha Rubchinskiy / Photo: Courtesy of Gosha Rubchinskiy
The talk of the week, of course, was Raf Simons' "takeover" finale. The designer pulled from the archive of Robert Mapplethorpe—the Foundation approached Simons earlier this year—to imprint elongated shirting, fetishistic aprons, and restrained outerwear with the photographer's sexually transgressive S&M portraiture, sepia-toned curly-locked male nudes, and lovely, daintily distant floral arrangements. Considering the late photographer has exhibitions at LACMA and the Getty, as well as an HBO film, all on this year, perhaps we're tired of talking about Mapplethorpe—is that bad to say?—but it must be noted that this is the first act of curation from a designer's hand. And what a beautiful, intimate portrayal it was.
At this season's edition of Pitti Uomo, the shows were of-their-own. Developed and particular. As they should be.
0 Comment